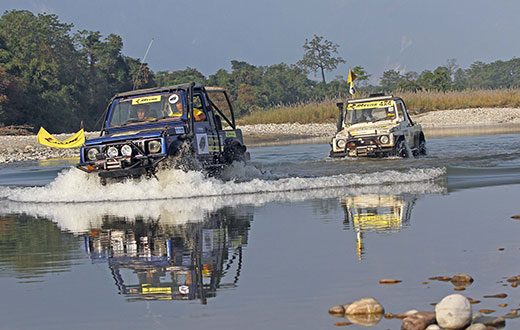 Siliguri: As many as 100 top rallyists from around the country will be vying for the top honours when the Biswa Bangla JK Tyre Himalayan Drive 5 gets underway here on Saturday.
Scheduled over five days and 1,250 km, the event will have its flag-off here on Saturday but the drive shall begin on Sunday. This is India's first tri-nation rally.
The rallyists will have to navigate through the mountains in Darjeeling hills and various picturesque routes in Bhutan and Nepal.
The format of the rally will be TSD (Time, Speed and Distance).
The JK HD-5 will cover a variety of terrain, ranging from tarmac, river beds, dirt tracks, forest paths and mountainous roads. It will skirt steep slopes which is set to challenge the skill of the participants and can be dangerous too.
Among others, national TSD champions Asgar Ali and Mohammed Mustafa, Nirav Mehta and Subir Roy and Saurav Chatterjee will be pitting themselves against the natural terrain as well as each other for glory.
On the first day, the rallyists will drive through North Bengal's forests before hitting the mountain road to Paro in Bhutan.
Read more: 20 top teams in fray for JK Tyre Xtreme 4Play
The going will get tougher on the second day when they will go to Dochula Pass, situated at an altitude of 3100 metres, going past Thimphu, the capital of Bhutan. They will then return to the town of Paro.
The rallyists drive back from Paro through the Dooars on the third day, and climb up the hills to reach Darjeeling. The fourth leg of the rally, on March 1, will see them driving from Darjeeling to Hile in eastern Nepal.
The last leg will have them driving from Hile back to Siliguri, where the gala prize distribution ceremony will take place.
For clarifications/queries, please contact IANS NE