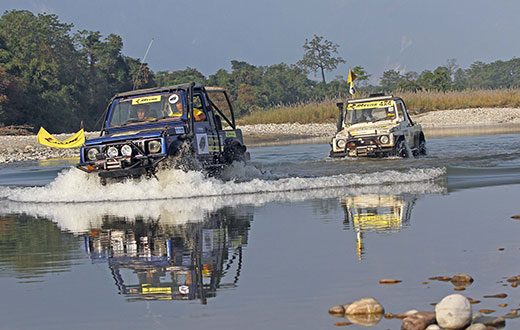 Chandigarh: The JK Tyre Xtreme 4Play, north Indias biggest off-roading competition, was flagged off here on Friday evening, with as many as 20 top teams from across the country competing for top honours in their modified cars.
The local team Gerrari Off Roaders will begin as the favourite to conquer the various obstacles in this three-day seven-stage event that is being held at Kikar Lodge, India's first private forest reserve, spread across 1800 acres on the foothills of Shivalik Mountains in Punjab.
Gerrari has fielded four teams, with each team consisting of two cars and manned by a driver and a co-driver, led by the duo of Gurmeet Singh Virdi and Kirpal Singh Tung who recently won the Rain Forest Challenge in Malaysia. Kabir Warcha and Yuvraj Tiwana will also be a team to watch out for.
The Bangalore Off-Roaders, who won the JK Tyre-Orange 4x4 Fury in the picturesque valley of Dambuk in Arunachal Pradesh late in December, are expected to be their main challengers. They have fielded six teams, with Siddarth Santosh and Lokesh Shivaraja as their drivers to watch out for.
Other teams in fray include MOCA from Arunachal Pradesh (2 teams), KTM Jeepers from Kerala (four teams), Gypsy Team from Punjab (two) and one team from Delhi and Haryana.
The race is divided into two categories -- XTreme 4Play for professionals in modified cars who have to tackle natural obstacles and 4x4Play for amateurs in non-modified cars who will face a handful of man-made obstacles as well.
The flagoff was done by, among others, Amarinder Singh (owner of Kikar Lodge) and Harjinder Singh (father of Asia Pacific champion Hari Singh).