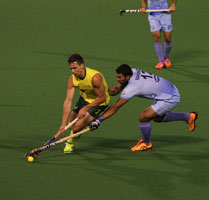 Perth (Australia): After losing the first match against Australia, the Men Hockey Team displayed a remarkable performance against the host team and outplayed the Kookaburras 2-1 today in the second match of the India-Australia four-match test series, played in Perth.

India started with aggressively and kept the opponents busy in the first two quarters of the match. In few occasions, they managed to sneak into Australian defence-line and created good opportunities to take initial lead. However, Australia drew the first blood in the 30thminute when forward player Matt Gohdes deflected a shot and sent the ball into the box, taking the lead 1-0 just before the end of 2nd quarter.

In the third quarter, Australia earned a penalty corner which was well-defended and immediately attacked the Australian D through a long pass. It was Sardar who cleverly forwarded the ball to Ramandeep Singh and the forward player did no mistake in netting the ball, and helped his team equalise in the 33rd minute.

The equaliser saw India increase its tempo and they attack yet again the very next minute through a long pass at the D of Australia. This time, it was SV Sunil who single-handedly took the ball to the opponents' D and cleverly ensured that he puts the ball past the goalkeeper, giving India the second goal and the lead.

In the fourth quarter, both India and Australia fought neck-to-neck and challenged each other to score. India continued their attacking game till the last minute and tried to create more chances but they faced defensive Australia, who managed to hold the scorecard at 1-2 till the final whistle.