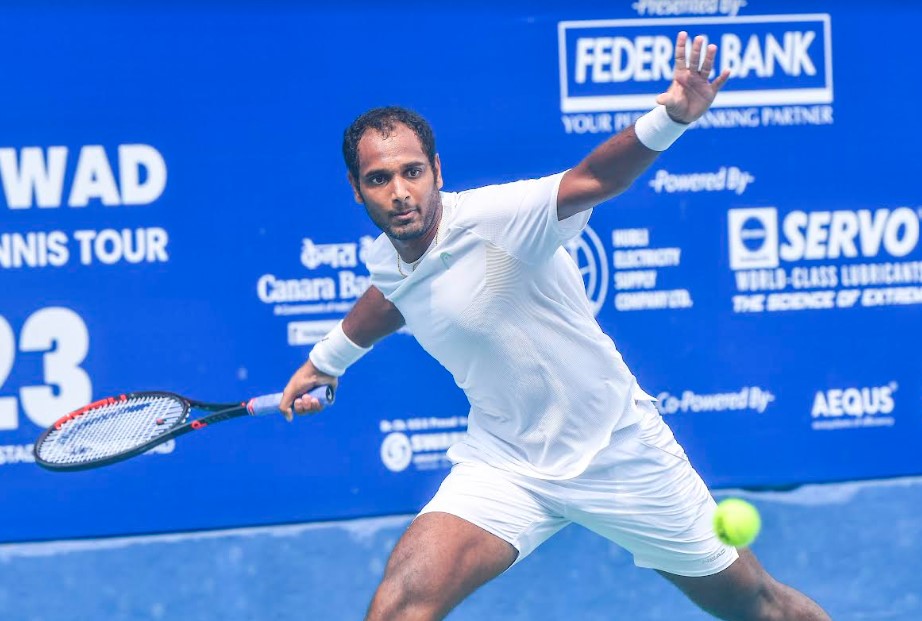 Dharwad: The ITF Dharwad Men's World Tennis Tour 2023 witnessed an electrifying showdown in the final as fourth seed Ramkumar Ramanathan of India emerged victorious in a pulsating match against third seed Digvijay Pratap Singh to emerge as the champion in the US $ 25,000 event that saw a packed crowd at the Dharwad District Lawn Tennis Association courts here on Sunday.
Ramkumar and Digvijay, both Davis Cup team members with Digvijay having made his debut in the tie against Morocco last month, played each other for the first time. There was such an intense competition that there was not a single break in the entire match as Digvijay's senior partner emerged victorious with a final scoreline of 7-6 (5), 7-6 (6). The winner took home the winner's cheque of US $ 3600 and 20 valuable ATP points while Digvijay had to be satisfied with a paycheck of US $ 2120 and 12 ATP points.
Ramkumar was also felicitated by KSLTA for winning a silver medal for the Indian team and was presented with a cheque of Rs 1 lakh by Maheshwar Rao, Hon. Secretary, KSLTA.
From the first serve, the crowd at the Dharwad Tennis Complex knew they were in for a treat. In a closely contested first set, Ramanathan demonstrated his remarkable court presence, outmanoeuvring his opponent with precise shots and an aggressive approach. His relentless effort paid off, as he clinched the first set 7-6 (5).
The intensity of the match only increased in the second set, with Digvijay Pratap Singh pushing back with determination and skill, refusing to let Ramanathan dominate the court. The set was tightly contested, but Ramanathan's composure and experience proved pivotal, eventually leading to another tiebreaker. Digvijay raced to a 3-0 lead and subsequently 4-1 in the tie-breaker but conceded the advantage, thanks to a couple of unforced errors. However, the youngster emerged as a worthy finalist.
This victory in the ITF Dharwad Men's World Tennis Tour 2023 final represents a significant achievement for Ramkumar Ramanathan as he had clinched the ITF Futures tile 11 seasons ago. "I had been struggling with my game since the last few weeks. Capping off with a win gives me the much needed confidence heading into my future tournaments," said the winner.
Results
Singles final:
4-Ramkumar Ramanathan bt 3-Digvijay Pratap Singh 7-6 (5), 7-6 (6).