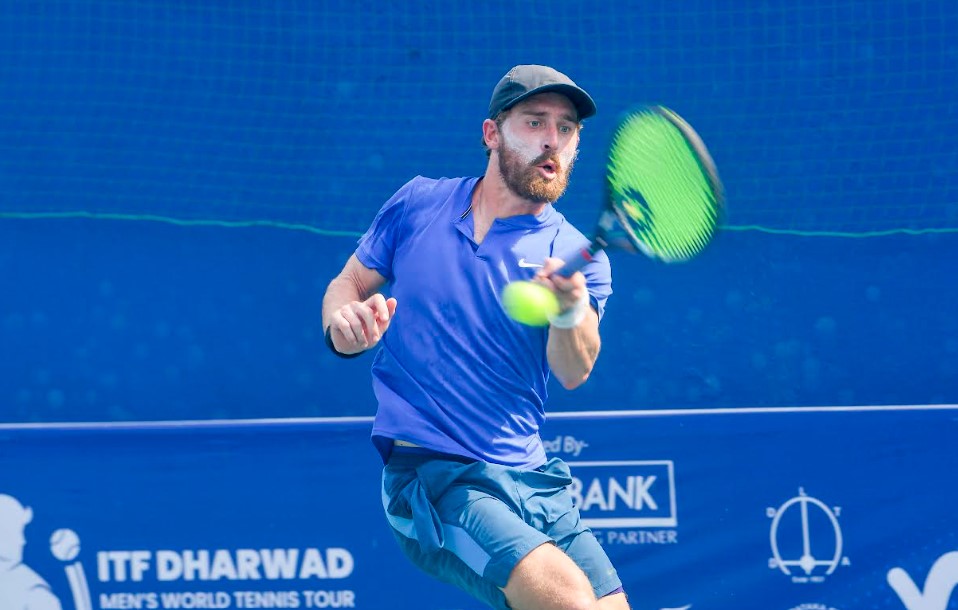 Dharwad: The first round of the singles in the ITF Dharwad Men's World Tennis Tour witnessed some long matches, which was a sign of quality tennis being played at the Dharwad District Lawn Tennis Association here on Wednesday. Luckily there were no casualties as all the seeded players breezed through to the pre-quarterfinals of US $ 25,000 prize money event.
Top seed Nick Chappell of USA overcame Korean Woobin Shin in straight sets 6-3, 6-3 while second seed Bogdan Bobrov quelled the challenge of qualifier Abhinav Sanjeev Shanmugam 6-2, 6-4. Sixth seed Florent Bax of Frace, who had won the last leg of the ITF 15K in Ahmedabad three days, was leading 6-2, 2-0 (2nd set) when his opponent Stijn Pel from Netherlands threw in the towel. Fourth seed Ramkumar Ramanathan some stiff resistance from qualifier Faisal Qamar before prevailing 7-6 (3), 6-2.
Meanwhile, qualifiers Madhwin Kamath and Suraj Prabodh continued their dream run winning their opening round matches. While Madhwin was a 6-3, 6-4 winner over wild card entrant Manish Ganesh, Suraj played out the longest match of the day in outplaying another wild card Raghav Jaisinghani 6-4, 6-4 in two hours and 20 minutes.
Results
(All Indians Except Mentioned In Brackets; Seedings In Pre-Fix)
Singles round of 32
Q-Madhwin Kamath bt WC-Manish Ganesh 6-3, 6-4;
8-S D Prajwal Dev bt Q-Luke Sorensen (AUS) 7-5, 6-4;
Ishaque Eqbal bt Manish Sureshkumar 6-3, 6-3;
4-Ramkumar Ramanathan Vs. Q-Faisal Qamar 7-6 (3), 6-2
7-Sidharth Rawat bt WC-Shivank Bhatnagar 6-4, 6-2;
Rishab Agarwal bt Q-Jagmeet Singh 6-4, 6-2;
6-Florent Bax (FRA) bt Stijn Pel (NED) 6-2, 2-0 (retd);
Q-Enrico Giacomini (ITA) bt Dev Javia 6-3, 7-6 (2);
Q-Ranjeet Virali-Murugesan bt Niki Kaliyanda Poonacha 7-5, retd
Q-Suraj R Prabodh bt WC-Raghav Jaisinghani 6-4, 6-4;
2-Bogdan Bobrov bt Q-Abhinav Sanjeev Shanmugam 6-2, 6-4;
1-Nick Chappell (USA) bt Woobin Shin (KOR) 6-3, 6-3;
5-Kazuki Nishiwaki (JPN) bt Ryotaro Matsumura (JPN) 6-2, 7-5
Doubles round of 16 (unfinished match) 1-Purav Raja/Ramkumar Ramanathan Vs. Digvijay Pratap Singh/Karan Singh 6-7 (7) (suspended)