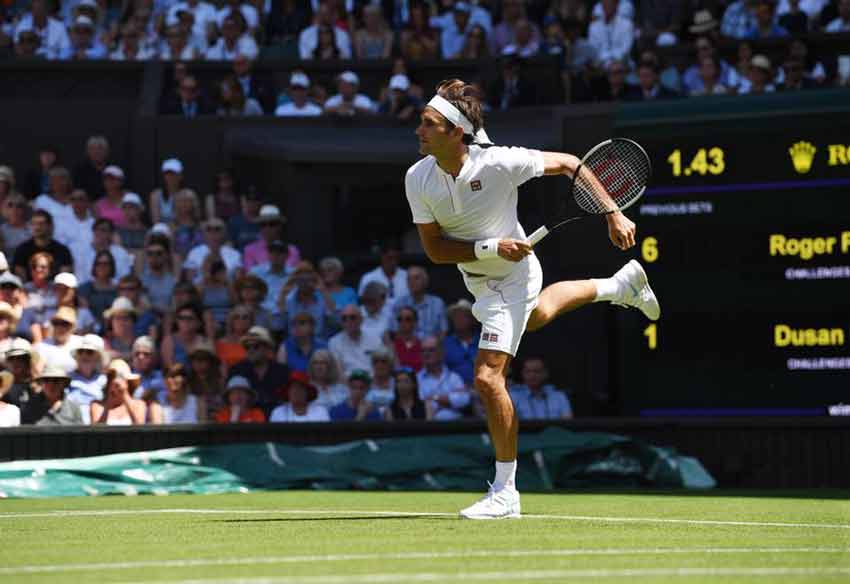 There are players who have all the records in the world against their name through hard work, sweating it out on the field, perseverance and what not. Their efforts are quite visible on the sports field and their game is more often than not method oriented. Rahul Dravid from the cricketing arena is one such example.
Then there is a different category of players. Players who may work as hard as the others or may have to sweat it out even more, but make it seem effortless on the field and seem to romance the sport which has given them their identity. From the cricketing arena, somebody like a Brian Lara could well be cited as an example of the latter category.
However, from the tennis court if you had to pick one player who makes the sport look easy, someone who has a certain charm to his game, more often than not that pick would be Roger Federer.
Although the Swiss tennis star may have lost the 2019 Wimbledon final to Novak Djokovic in Wimbledon's longest final ever in single's category, it does not come as a surprise that he was the crowd's favorite day on that day.
Federer's recent defeat in the Wimbledon final by no means overshadows his illustrious career in which he has won 20 Grand Slams alone, neither does it settle the debate about whether he should or should not be considered the greatest player of all time.
Many critiques and tennis fans have gone on to argue that the Federer's rival Rafael Nadal or the likes of Pete Sampras, Rod Laver or Novak Djokovic should be in the contention of the 'greatest tennis player of all-time'.
However, here are five reasons why Federer is one of the greats to have ever graced the game if not the greatest of all time.
Elegance personified
There are very few things in the world of tennis which may be considered as beautiful as Federer's style of tennis. The elegance in his game can leave any poet short of words. The flair in his game is unbelievable and his single-handed backhand a thing of beauty.
If his twenty Grand Slam wins are not enough to indicate why is one of the greatest tennis players ever, his style of play is- stylish, elegance and graceful even in victory and in defeat.
Golden era of tennis
It is the Swiss player who started the Golden era of the sport. With Federer started the Federer-Nadal (Fedal) rivalry, he also competed with Djokovic and not to forget Andy Murray and Stan Wawrinka.
It is Federer's brilliance that has prevented the other gentlemen from winning more grand slams.
And it would not be an understatement to say the Federer's superior play has forced other competitors to be on top of their respective game.
Dominated the sport
Federer's records are endless. He made it into 36 quarterfinals in a row. He also made it to 23 successive semi-finals. He has made it to may a finals and each time he has been written off, he has found a way to lift himself up, dust himself off and keep moving forward and let his racquet speak for him.
It is not without a reason that Federer fans often like to call themselves Forever Federer Fans.
Talent that worked hard
Of course Federer is talented, gifted, blessed but what is more important here is the direction and shape which Roger gave to his enormous talent that has seen him experience an illustrious career, full of ups and downs though.
However, whenever the going got tough, it wasn't talent that solved problem for him but his immense dedication and hard work to find a way to improve his game which enabled to make a comeback again and again.
Federer believed in the process of it all as much he did in himself and his abilities.
Versatile
It is perhaps Federer's versatility that makes him such a special player. In modern tennis, players are either good on clay or grass or hard court, but Roger Federer seems to have busted the myth.
Not only is he good on all surfaces but he also has all the shots in his book- foreand, backhand, jump smash, you name it, he has it.
It is perhaps his passion to perform that has enabled him to make a comeback whenever critics have ruled him out.
People now in their 70s or 80s often recall how they saw Jimi Hendrix's play as one of the defining moments in their lives.
Perhaps the same will hold true of Federer and people will recall themselves watching Federer play as one of the highlights of their lives.