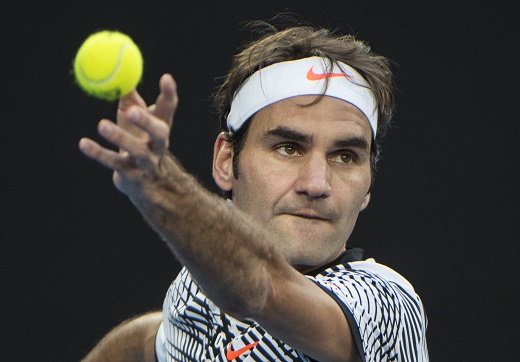 Although there is an unprecedented buzz across the sporting arena, Roger Federer versus Rafael Nadal, is certainly not the best rivalry in men's tennis. The statistics prove it, with Nadal dominating the series and even the finals to a large extent.
It is true then that the 2017 edition of the Australian Open will long live in the memory for many reasons. After two years of every men's Grand Slam final containing one of either Novak Djokovic or Andy Murray, 2017 begins with a classic old encounter, making us all believe in the notion that "Form is temporary but class is permanent".
Federer versus Nadal for the Australian Open title on Sunday is a match that the sporting world wanted to happen, or maybe it was the need of the hour. For sports so often teaches us the virtue of not giving up, of fighting it back, of losing and yet having the heart to get up and win the next time around. Sunday, January 29, 2017 might very well be our chance to celebrate two absolutely magnificent careers in the sport of tennis winning between them 31 grand-slam titles, enough to tell the kind of dominance they had over their own game rather than anyone else.

Over the age of 30, arguably past their best, at rankings that no one expected from them for the majority of their careers, yet come the big stage and these stars are here yet again.
Also Read: Nadal wins to set up dream Australian Open final versus Roger Federer

"It is special to play with Roger in a final of a Grand Slam, I cannot lie," Nadal said after winning a nearly five-hour five-set semifinal over Grigor Dimitrov on Friday, 6-3, 5-7, 7-6 (5), 6-7 (4), 6-4. "It's great. It's exciting for me, and for both of us, that we're still there and we're still fighting for important events."

Even the prospect of the Nadal-Federer final seemed highly unlikely especially with both of them taking some time out due to injuries.

"I told him I wish we could do a charity match or something, but I was on one leg and he had the wrist injury," Federer said. "We were playing some mini-tennis with some juniors, and we're like, 'That's the best we can do right now.
Also Read: Serena clinches record 23rd Grand Slam title with Australian Open triumph

In around three months, both the stars have shown great fitness, skill and passion for the sport, for it couldn't be anything else that drives a 17-time grand slam winner to train, practice and perform, other than the gorgeous P word passion.

Federer had to fight a tough battle against No. 5 seed Kei Nishikori and No. 4 seed Stan Wawrinka, and one has got to admit that the odds were against him. In the semifinal against Wawrinka, Federer fought off break points early in the fifth set that could have allowed Wawrinka to take control of the match for good.
"I thought in the beginning of the fifth that perhaps the wall had appeared in front of me, and that it was the end of this nice story," Federer said.
So either Federer will win his 18th or Nadal would narrow the gap to just 2 by winning his 15th grand-slam, yet there is so much more to the story, there is a lot more involved than just numbers.

Nadal is 23-11 against Federer, including a 3-0 record at the Australian Open, where they last met in the 2014 semifinals. But that doesn't give him an advantage because this is a completely different context, when none of them, safe to say, is at the top of his game.

"Was a long time ago," Nadal said. "Is a different match, different moment, for both of us. I think this match is completely different than what happened before. Is special. We have not been there in that situation for a while, so that makes the match different."

Federer and Nadal represent the pinnacle, the dream of youngsters, the inspirations of people across the globe. Whenever they meet, the buzz, the emotions are of a different level and Sunday will be no different.

Sports world is all set to see history in the making then, when two greats of a sport come together for the title match for the first grand-slam of the year, this Sunday, January 29th.