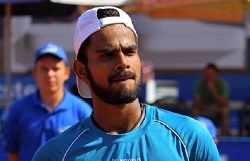 New Delhi: Spain completed a 5-0 whitewash against India as Marc Lopez defeated Sumit Nagal 6-3, 1-6, 6-3 and David Ferrer beat Ramkumar Ramanathan in straight sets 6-2, 6-2 in the Davis Cup World group Play-off tie at RK Khanna Stadium, here on Sunday.

Young Sumit Nagal, who made his debut for India in the Davis Cup, impressed all with his spirited performance in the first reverse singles of their World Group Play-off tie. Motivated with an astounding crowd support he got the RK Khanna Stadium, the 19-year-old player from Haryana fought for every point before losing the first set to Lopez 3-6.
However, the youngster came back strong in the second and beat the Spaniard 6-1 to draw level. Nagal had an upper hand in the third set but wrested the advantage after struggling with fitness problems (breathing) that saw him require a medical timeout.

Speaking on his performance, Nagal said that he was disappointed but he didn't play that bad. "I don't think I played bad. We were in good position after winning the set and leading 3-0 in the third set. Then things started to get bad for me."

Talking about his fitness, he said that the coach had faith in him and thought that he could play three sets. "It's not easy to play in these hot and humid conditions. Humidity took a toll. I stay in Europe where you don't see these conditions often."

On making his debut in the Davis Cup, Bagal said that he was nervous but didn't show it. "Never played infront of such a big crowd. I am pretty disappointed as I should have pulled it out. But then you learn things from such events. It does not matter whether you win or you lose. I did not play that bad."

Praising Lopez, Nagal said, "I knew he was also tired but at the end he had that extra energy that mattered in the end. Though he is basically a doubles player, then also he is good enough and can play both singles and doubles."

Meanwhile, speaking on how hard it was to play a four set match yesterday and a three-set match today, Lopez said, "It was tough to play singles after the tough doubles match yesterday. But then rafa (Rafael Nadal) was tired and therefore I had to play the singles."

"There had been no discussion on who would play today. Feliciano (Lopez) had travelled a lot and Rafa was also tired. So the captain (Conchita Matinez) asked me to play," he said, adding that Sumit played a good game.
"Sumit was tired and so was I. He is a very good player with strong forehand. I am happy that I could hang on and turn the match in my favour," said Lopez.