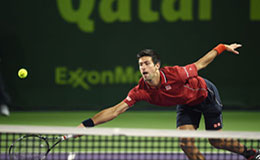 Doha: Squeaking sounds of the shoe-soles rubbing against the hard surface coupled with grunts and a one off "habibi" or a "we love you" broke the silence as the two Titians came face-to-face in the final of the $1,283,855 Qatar ExxonMobil Open in Doha on Saturday.
More squeaks and more grunts. Ah! An array of squeaks and grunts, actually an hour of those sounds and Djokovic was sitting pretty with a winner's cheque of $201,165 and a glittering trophy stylised in the shape of Qatar's national bird, falcon.
An easy win!
For an expert, Djokovic had his grip on the trophy from the start; it only got firmer as the match progressed.
In the first game of the first set, Nadal came rather close to breaking Djokovic, but the Serbian had other plans. He not only retained his serve, but broke Nadal in the very next with an impressive 40-15 margin to stamp his class early. It would have been 40-0 had Rafa not won a disputed line-call.
Maybe he was testing the Spaniard a bit. But, he used the same ploy that Rafa had used against his opponents Andrey Kuznetsov and Illya Marchenko – breaks early in the game. The difference was Djokovic was clinical in his approach. Soon it was 3-0, enough to subdue the chants of "vamos Rafa".
It took many a grunts and a bit of aggression before Nadal managed to win first game to crawl to 1-3. But, the Serbian was in no mood to settle with just one break, he claimed another one in the sixth to go 5-1 up and soon the crowds had changed their stance. It was, "Go Novak Go" now. 'Nothing succeeds like success,' they say and the adage came good at the Centre Court too. It was 6-1 in no time and the set was in Djokovic's pocket.
With the first set gone, Nadal had been pushed to the wall, psychologically at least, for his grunts were getting louder and louder with each passing second.
There were rallies in the very first game. What's more even Djokovic had started grunting, but all that merely seemed like a ploy to tire Rafa into submission, who failed to retain his serve. The crowds tried their best to bring alive 'The Spaniard' with their chants, but all that was too late. The World No. 1 Serbian had retained his serve to go 2-0 up. Another rally in the fifth game resulted in another break in favour of Djokovic and he was already 4-1 up.
Rafa spots a coach among the audience?
Of course, there were a few comic moments too when a spectator shouted, "Change your coach, Rafa!"
Nadal took the moment in his stride.
"Do you want to be my coach?" He asked aloud before clapping his racquet in a gesture of acknowledgement and went on with the game. Later, post the match too Nadal zestfully said, "Well, I found a new coach too today."
The camera panned across his coach Toni Nadal, even as Rafa continued. "So I think he would be traveling with me to Australia soon and maybe next time I may beat Novak with him (by my side)."
The moment hardly had an impact on the calm composure of Djokovic, who won the next game to go 5-1 up. With great effort Nadal retained his serve, but could do little when Djokovic served in the last game of the evening. The Serbian retained his serve 40-15 and with that the set was his 6-2.
One and quarter of an hour later, Djokovic was sitting pretty with the Doha ATP title under his belt with an impressive 6-1, 6-2 win. Djokovic kept his sheet clean. In fact, he didn't lose a single set in the entire tournament. He is World No. 1 for no reason.
The Serbian on his part was thankful that he was able to beat Nadal in straight sets. "It's a great feeling. What can I say? I am living the best time of my life and career. It's easy to lose confidence than it is to gain. I am very grateful to have a start like this in Doha."
"He always presents a great challenge, the rivalry goes back 10 years, but this is the first time I have beaten him set to set," he said of Nadal.
Dedicating the falcon-shaped trophy to his grandfather, Djokovic said: "This trophy reminds me of someone who was very close to me, but who is no longer here. My grandfather used to call me Falcon."
RESULT:
Singles final
(1) SRB Novak Djokovic bt (2) ESP Rafael Nadal 6-1, 6-2.