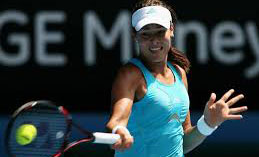 Singapore, 2nd December 2014: The Coca-Cola International Premier Tennis League (IPTL) presented by Qatar Airways got under way at the Singapore Indoor Stadium this afternoon and saw the Micromax Indian Aces carry on from where they left off after leg one in Manila, producing a dominant performance in the opening match over second placed team Musafir.com UAE Royals. The Indian team, led by Player-Coach Fabrice Santoro, won all five sets in convincing manner, finishing the set with a combined total of 30 games to the Royals' 11.
· Match started with Women's Singles which saw World No. 5 Ana Ivanovic triumph over Kristina Mladenovic 6-2
· The Mixed Doubles gave the crowd its first 5-5 tie-break, with the experienced pairing of Rohan Bopanna and Sania Mirza triumphing over Kristina Mladenovic and Nenad Zimonjic in the 5-minute shoot out to claim the set 6-5
· Next up was Men's Singles in which flamboyant Frenchman Gael Monfils out-played reigning US Open Champion Marin Cilic 6-1
· In the Past Champions match, Fabrice Santoro overcame a struggling Goran Ivanisevic. The former Wimbledon champion was nursing a hamstring strain before being subbed out in favour of Nenad Zimonjic but it wasn't enough to stop the dominance of Santoro who closed the set at 6-2
· The final set of the match was the Men's Doubles which saw Bopanna and Monfils return to the fray to defeat a dispirited Cilic and Zimonjic 6-1
· The Final Score of 30 – 11 sees the Micromax Indian Aces add a further 4 points to their tally while the Musafir.com UAE Royals will take some consolation from a single bonus point for winning more than 10 games
What the Players Said:
· Goran Ivanisevic - "It's good because it's very quick, I like to play very quick all my life, you have 20 seconds to serve, I've never had problems with that because I like to serve quick."
"I think it's great. Everybody's playing seriously and I think it's good, it's good that people see us in a different way. It's good for us to play like this and so far it's working perfect."
"I don't think it's good to fool around too much because you lose that spirit, this is perfect. I don't remember when was the last time I played three serious sets, with no ad and with the power point it can be over in 10 minutes, you have to be ready anytime. Though I still like to have fun with the crowd and I'm always going to do, it's good to play serious and show people I still can hit tennis balls."
"I still have to survive nine matches, it's better to stop than to pull everything and then I'll have to go home. Like this at least I will be ready, maybe not for tomorrow but against Andre, I'll definitely be ready."
· Marin Cilic - "So far I think the format is very interesting, everyone was talking about it from the start, I think it shows the team atmosphere and the team spirit brings the most wins and results. It's definitely exciting for the fans to interact with the players and see different things than they are used to. For players it's different, you have to be into the matches more than usual, emotionally and as a team."
"For me it was great to interact with my teammates, we've built good relations over the last six or seven days."
"It's a competitive event, and I think all the teams are very competitive, we've seen in Manila that the Singapore team has the biggest bench. They didn't do very well over there and they are a little bit sad about it, it makes it really competitive because nobody likes to lose. It makes it more interesting for everybody and I think it's nice to have this competition."
· Gael Monfils - "For me I think it's good, it's fun and serious at the same time, and it's serious because we play four legs, but that's cool."
Match Scores:
MICROMAX INDIAN ACES

SCORE (GAMES)

Musafir.com UAE Royals

WOMEN'S SINGLES

Ana Ivanovic

6

2

Kristina Mladenovic

MIXED DOUBLES

Rohan Bopanna/Sania Mirza

6

5

Kristina Mladenovic/ Nenad Zimonjic

MEN'S SINGLES

Gael Monfils

6

1

Marin Cilic

PAST CHAMPIONS' SINGLES

Fabrice Santoro

6

2

Goran Ivanisevic

MEN'S DOUBLES

Rohan Bopanna/Gael Monfils

6

1

Marin Cilic / Nenad Zimonjic

TOTAL SCORE

Mircromax Indian Aces

30

11

Musafir.com UAE Royals