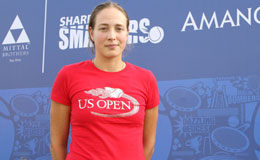 Pune: Georgian tennis player Oksana Kalashnikova, who transformed from being a singles player to a doubles exponent, is super excited on getting a chance to play against Indian tennis icon Leander Paes, albeit in an exhibition match.

Kalashnikova, who is not new to Pune having played in a couple of $25,000 tournaments and also 125,000 WTA Challenger in which she won the doubles title, will play a mixed doubles exhibition match against Paes on December 3, the final day of the Amanora Premier Tennis League.

"I don't know who will be my partner, but it doesn't matter. To get a chance to play against a legend like Leander (Paes) is good enough," said Kalashnikova during an informal talk with the media persons.

Kalashnikova, who arrived a few days ago on a special invitation from the organisers of the Amanora Premier Tennis League, gave thumbs up to the concept of franchisee-based league.

"I saw a few matches and know some women players from the ITF tour. This kind of league is good to develop camaraderie, friendship and team spirit. It was exciting to watch the league matches," Kalashnikova said.

Till 2010 Kalashnikova was playing singles and her WTA ranking was a career high of 158 when she suffered an injury that laid her off the sport for about a year.

"When I returned to the tour I began playing doubles better than singles and my double ranking went up. That's when I decided to concentrate of bigger tournaments as doubles provided me better option," said Kalashnikova when asked why she chose doubles over singles career.

Asked what she felt about tennis fans in Pune, the Georgian said she thought the crowd always enjoyed tennis.

"And, I know tennis in India is much bigger a sport than in Georgia where very few play the game. I have no idea why Georgians are not getting into playing professional tennis, but I know it is a struggle for those players who are not in top 100," she said.

Elaborating, Kalashnikova said if you are not in top 100 then one is left to do everything. From making travelling plans to hotel booking et all. It is a hard way to learn but it is a good school to learn and once you make it to the big league then things move smoothly," she explained.

"Once you are there at the top then it is easier to stay there," Kalashnikova said.