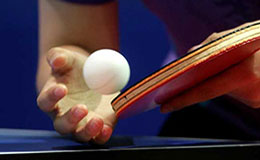 Panaji: Third-seeded Anirban Ghosh from West Bengal blanked out fifth-seeded Yashansh Malik of Delhi 4-0 in the men's singles final to win gold in the table tennis events of the National Games at the Campal Indoor Stadium today.
As in the men's final, Archana Kamath from Karnataka made it a one-sided affair to claim the women's singles gold after beating Diya Chitale from Maharashtra 4-1.
Anirban, who did well to beat title favourites Ankur Bhattacharya in the semifinal, was not troubled at all by the lanky Delhi paddler in the final. Except for the third game, where Yashansh extended Anirban, it was just a matter of time for the West Bengal paddler to end his rival's agony. A turnaround for Archana Kamath happened in the semifinals. After weathering the storm of Lakshita—she needed five points for the match after leading 3-0—she never looked back as one could see a free-flowing Archana. Suddenly, her backhand became a potent weapon for Diya, who could not control and often made mistakes. It made life easy for the Karnataka girl. There was a moment in the fourth game when Diya hit the groove. But it didn't last long as Archana wrapped it up in the extended fifth game to claim the gold, leaving the silver for Diya to be satisfied with.
Diya, however, can take pride in winning gold in the mixed doubles and helping Maharashtra women claim gold in the team championships.
Yashansh had it easy against Priyanuj Bhattacharyya of Assam, as compared to Aaniban Ghosh, who met stiff resistance from his West Bengal state mate, Ankur Bhattacharya, in the men's singles semifinals. Yashansh started well but lost the second game to the Assam lad. Nevertheless, the Delhi paddler had the skills to come back strong and finish the job rather well, including the extended third game.
But the two West Bengal players got engaged in a long-drawn battle for supremacy. Ankur opened well and even led 2-1 before Anirban unleashed his attack against his rival and seized the initiative to go 3-2 up. However, Ankur pulled a game back before Aniban took advantage of the tired limbs of the former to emerge as the winner.
For Diya Chitale, it was a cakewalk as the Maharashtra girl blanked out state mate Swastika Ghosh 4-0, taking less than 30 minutes. But Archana Kamatah of Karnataka did well to keep her reputation intact after Lakshita Narang of Delhi threatened to run her over. Lakshita led -1 after losing the first game and was on the verge of wrapping it up when Archana fought back to outdo the Delhi paddler and win 4-3.
Ankur and Anirban earned their gold medal in the men's doubles final, beating Abhishek Yadav and Divyansh Srivastava of UP. The UP duo had everything going for them until the West Bengal pair turned the tables on them to leave their rivals licking their wounds and satisfied with the silver medals.
The right-left combination of Swastika Ghosh and Shruti from Maharashtra made it look easy, despite dropping a game, to beat the West Bengal combine of Sagarika Mukherjee and Kaushani Nath 3-1 for the gold.
Diya Chitale and Sanil Shetty of Maharashtra accounted for Ankur Bhattacharya and Kaushani Nath of West Bengal in straight games to claim the mixed doubles gold at the Games. A jaded Ankur failed to raise his game, and it hampered Kaushani. Eventually, the pair had to settle for the silver.
Results:
Men: Final: Anirban Ghosh (WB) bt Yashansh Malik (Del) 11-8, 11-6, 12-10, 11-5.
Semifinals: Yashansh Malik bt Priyanuj Bhattacharyya (Assam) 11-9, 6-11, 13-11, 11-6, 11-5; Anirban Ghosh bt Ankur Bhattacharya (WB) 10-12, 14-12, 6-11, 11-9, 11-9, 5-11, 11-2.
Women: Final: Archana Kamath (Kar) bt Diya Chitale (Mah) 11-4, 11-7, 11-6, 7-11, 12-10.
Semifinals: Diya Chitale bt Swastika Ghosh (Mah) 11-8, 11-8, 11-4, 11-4; Archana Kamath bt Lakshita Narang (Del) 7-11, 9-11, 11-8, 13-11, 9-11, 11-7, 11-9.
Men's Doubles: Final: Ankur Bhattacharya/Anirban Ghosh (WB) bt Abhishek Yadav/Divyansh Srivastava (UP) 4-11, 8-11, 11-8, 11-8, 11-8.
Women's Doubles: Final: Swastika Ghosh/Shruti Amrute (Mah) bt Sagarika Mukherjee/Kaushani Nath (WB) 11-7, 11-2, 12-10.
Mixed Doubles: Final: Sanil Shetty/Diya Chitale (Mah) bt Ankur Bhattacharya/Kaushani Nath (WB) 11-6, 11-4, 11-2.