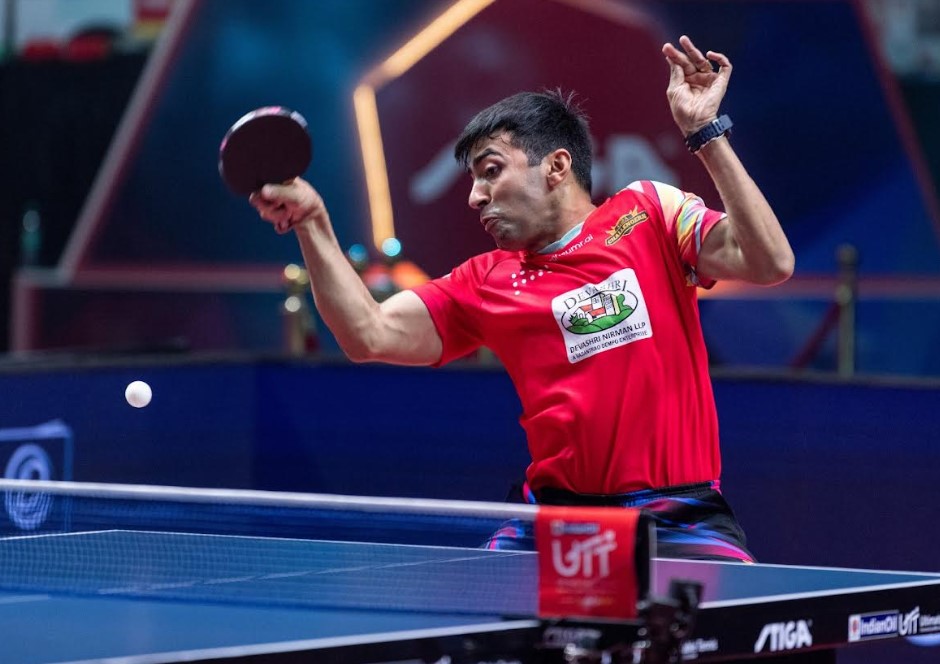 Thiruvananthapuram Top-seeded Harmeet Desai dropped a game before regrouping himself to beat Arjun Ghosh 3-1 to enter the round of 32 in the second UTT National Ranking Championships at the Jimmy George Indoor Stadium here from today.
Among the other seeds, No. 2 Manav Thakkar, No. 3 SFR Snehit and No. 4 Sharath Kamal moved into the next round without breaking a sweat on a sultry day. But the sixth-seed and former national champion Sanil Shetty went down to qualifier G. Vinod 3-2, making the knockout stage of contests somewhat interesting.
The top players, who were playing their first outing in the championships, were obviously a little rusty. But the left-handed Sanil Shankar Shetty flattered to deceive after leading 2-0 in his encounter with the Railways player. Suddenly, the PSPB paddler found his rhythm disturbed by Vinodh as the latter inched his way up after winning the third game. In the fourth, the deuce proved lucky for him as he collected the last two crucial points to leave Sanil in a shamble. It probably played so much on his mind that he missed a match point before letting Vinodh overpower him at 13-11, much to the surprise of the Chennai paddler.
The women's singles, too, entered the knockout stage, and after the completion of the men's singles second round, they will play two rounds before the end of the day's schedule.
Aadi Chitnis of Maharashtra led 2-0 against Atherva Gupta of Delhi. However, the Delhi boy's strong reply in the next two games forced Aadi on the back foot. Yet, the Maharashtra boy upped the ante in the fifth to enter the round of 64. State-mate Kushal Chopda followed suit and accounted for Manipur's K. Seagal Singh. Kushal was down 0-2 but staged a fine recovery to take the next three games to outsmart the lanky Manipuri.
Arban Chanda of West Bengal began well but dropped the next two games to give a glimpse of hope for Asif Haque of RBI. But the latter failed to make the opportunity count and surrendered meekly. Naman Bhatnagar of HP played a brilliant first game to win 15-13 on the third game point but lost the next two to Naman Mehra of Punjab. Nevertheless, the Himachal man won the close fifth to enter the round of 64.
In other 3-1 results in the first round, H. Jeho beat Navaneeth Kutty, P. Yeshwant downed Sarthak Gandhi, Parthav Kelkar accounted for Shivam Chndra, Riyan Dutta beat Senthil Kumar, Mudit Dani defeated Ayan Ghosh, Toushif Haque won against Samarth Singh, Shreyal Telang beat Raghuram Prakasam, Y. Khelendrajit defeated Burhanuddin Malubhaiwala and Priyanuj Bhattacharyya beat Tanmay Rane, among others.
Important Results (Men's Singles R-64): Harmeet Desai (PSPB) bt Arjun Ghosh (RSPB) 11-6, 11-8, 6-11, 11-5; H. Jeho (Miz) bt Subh Goel (Del) 9-11, 12-10, 11-4, 11-6; Abhishek Yadav (UP) bt Riyan Dutta (Guj) 12-10, 11-3, 10-12, 13-11; G. Vinodh (RSPB) bt Sanil Shetty (PSPB) 11-9, 11-7, 7-11, 10-12, 11-9; Soham Bhattacharya (Guj) bt Prinanuj Bhattacharyya (Asm) 5-11, 11-9, 8-11, 11-4, 11-8; R. Albuquerque (Mah) bt Naman Bhatnagar (HP) 11-5, 4-11, 11-5, 13-11;K.J. Aakash (Kar) bt Rahul Malik (Pun) 6-11, 7-11, 11-5, 12-10, 11-9; Mohammed Ali (Telg) bt Emon Adhikary (NOCE) 8-11, 7-11, 11-6, 11-6, 12-10; Anthony Amalraj (PSPB) bt Shankab Baruah (Asm) 11-9, 11-7, 11-13, 11-8; Wesley Do Rosario (bar) bt Utkarsh Gupta (CRSB) 11-5, 8-11, 11-6, 9-11, 11-6; Shridhar Joshi (UP) bt Vansh Singhal (Telg) 11-13, 11-4, 11-7, 9-11, 12-10.
Round 128: Aadi Chitnis (Mah) bt Atherva Gupta (Del) 11-9, 11-7, 9-11, 10-12, 11-8; Kushal Chopda (Mah) bt K. Segal Singh (Man) 9-11, 9-11, 11-7, 11-9, 11-7; Arnab Chanda (Ben) bt Asif Haque (RBI) 12-10, 8-11, 8-11, 12-10, 11-6; Naman Bhatnagar (HP) bt Nman Mehra (Pun) 15-13, 7-11, 9-11, 11-2, 11-9