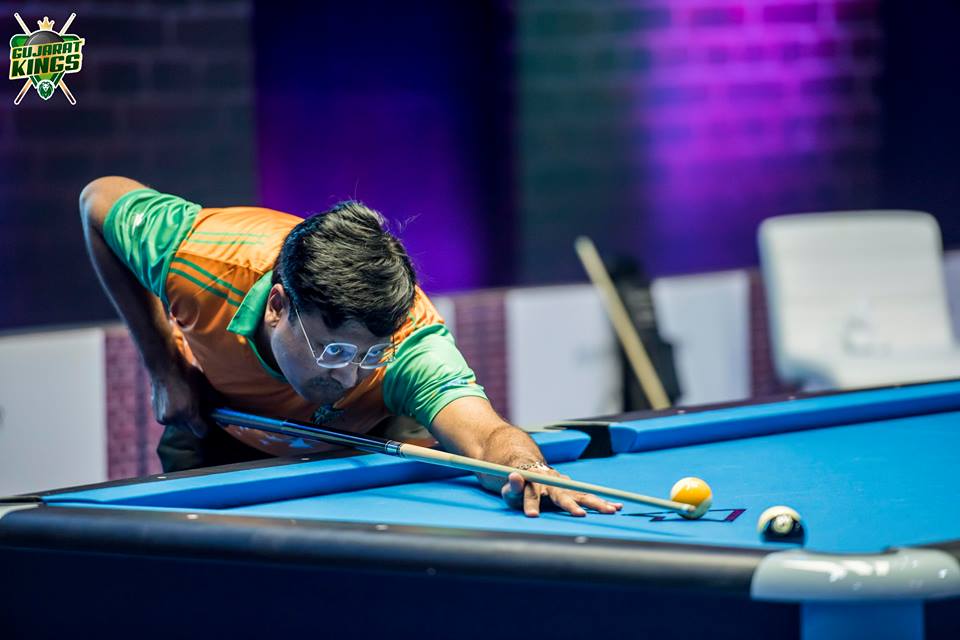 Ahmedabad: Fancied Gujarat Kings went down narrowly to Delhi Dons 2-3 in 3-2 in a tense battle here on Wednesday and thereby missed out on making the semi-finals of the Indian Cue Masters League.
The Kings still made the semi-final despite the loss and will now play Chennai Strikers in the semi-final on Thursday.
The Kings got off to a promising start with Alok Kumar getting the better Pushpender Singh in straight frames in the 9-Ball Pool Singles.
But then the pair of Andrew Pagett and Daria Sirotina lost 0-2 to Kelly Fisher and Malkeet Singh in the Snooker Mixed Doubles and that made the scoreline 1-1.
The clash of the Icons between Pagett and Kelly Fisher was the highlight of the day. Both the icons played some dazzling shots.
Pagett jumped to an 18-1 lead to the delight of Gujarat fans and went on a pocketing spree to finish the frame 50-1; but Kelly proved herself to be equal to the task, claiming the second equally emphatically at 55-8.
In the decider, Kelly then sneaked into an 8-0 lead with three minutes to go but then missed an easy red. Pagett pounced on the gift and racked up 17 points to turn the tables on Kelly. Thereafter, Pagett played smartly for time to win the crucial point.
Thereafter, Kings couldn't wrap up the contest as the pair of Alok Kumar and Daria Sirotina lost 1-2 to Malkeet Singh and Laura Evans in the Mixed Pool Doubles. In the Snooker Singles one-frame shootout, Sourav Kothari lost to Manan Chandra 0-42.
Results:
Match 1: Snooker Doubles: Andrew Pagett/ Daria Sirotina lost to Kelly Fisher/ Malkeet Singh 0-12; 30-24; Result 0-2
Match 2: Pool Singles: Alok Kumar bt Pushpender Singh 1-0; Result- 0-2
Match 3: Snooker Singles (ICON): Andrew Pagett bt Kelly Fisher 50-1, 8-55, 8-17; Result: 1-2
Match 4: Pool Doubles: Alok Kumar/ Daria Sirotina lost to Malkeet Singh/ Laura Evans 0-1; 1-0; 0-1; Results:2-1
Match 5: Snooker Singles: Sourav Kothari lost to Manan Chandra 0-42
Gujarat Kings Squad: Icon: Andrew Pagett, Female: Daria Sirotina, Remaining Squad: Alok Kumar, Sourav Kothari, Brijesh Damani; Coach: Ashok Shandilya.