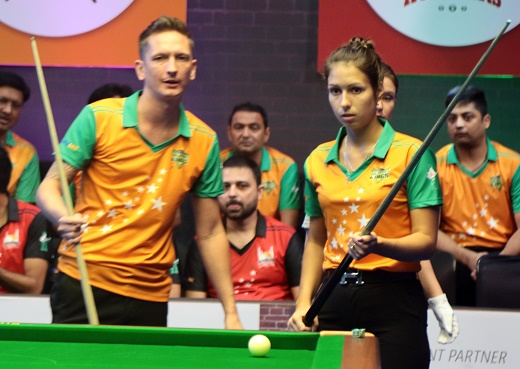 Ahmedabad: Gujarat Kings fell short on putting up a solid performance and lost 1-4 to Hyderabad Hustlers on Day 2 of the inaugural Indian Cue Masters League, on Sunday at the Rajpath Club.
The loss was Gujarat Lions' first and they still occupy second position on the league table.
Figuring in the second match of the day, Gujarat Kings' highly-rated duo of Andrew Pagett and Daria Sirotina lost a nervy encounter against Madhya Pradesh pair of Kamal Chawla and Amee Kamani 0-2.
Later, the Welsh Wizard Pagett seemed to be sailing against Iran's Amir Sarkhosh in the clash of the Icons. But an unforced error in the first frame, when he was ahead by 9 points, saw him succumb to a 22-31 defeat. In the second frame too despite a good start, Pagett made another mistake to leave the table wide open. Sarkhosh capitalised on the opportunity to win 41-28.
Amir Sarkhosh swept aside Gujarat Kings' veteran Alok Kumar's challenge in straight frames to give his side a 2-0 lead. Alok Kumar did fight back with Daria Sirotina to brush aside the pair of Anuj Uppal and Amee Kamani to bring them back into the tie.
But Sarkhosh won the Icon clash against Pagett to seal the contest.
World No. 2 Indian, Kamal Chawla, then beat Kings' Brijesh Damani to silence the home fans with a comprehensive 4-1 victory.
"We were under pressure as it was our first game and settled soon into it," said Kamal Chawla. "In the last game of the tie I had an opportunity and cleared the table to make it 4-1 on the night," the World No. 2 Indian added.
Results
Gujarat Kings lost to Hyderabad Hustlers: 1-4 : Match 1, Snooker, Mixed Doubles: Andrew Pagett/ Daria Sirotina b Kamal Chawla/ Amee Kamani 29-36; 19-25; Match 2, Snooker, Icon Players: Andrew Pagett lost to Amir Sarkhosh 22-31; 28-41;
Match 3, Indian Player: Brijesh Damani lost to Kamal Chawla 4-44; Pool, Match 4, Singles: Alok Kumar lost to Amir Sarkhosh 0-1; 0-1; Match 5, Mixed Doubles: Alok Kumar/ Daria Sirotina b Anuj Uppal/ Amee Kamani.
Gujarat Kings: Icon: Andrew Pagett, Female: Daria Sirotina, Remaining Squad: Alok Kumar, Sourav Kothari, Brijesh Damani; Coach: Ashok Shandilya