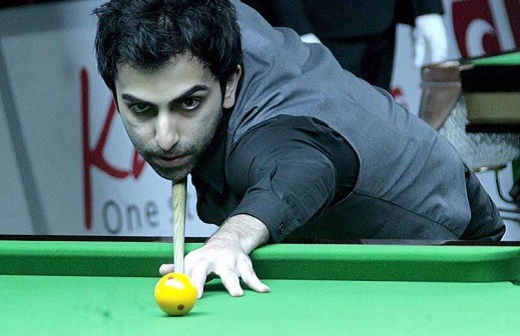 Kolkata: Cuesports ace Pankaj Advani put up a flawless display to outclass Aditya Mehta 5-1 and win the 3rd Kolkata Open National Invitation Snooker Championship 2017 here on Sunday.
The tournament was organised by the West Bengal Billiards Association at the Bengal Rowing Club.
Mehta, who had won the previous two editions of the championship, started off strongly, but Pankaj took the game away as soon as he got the chance. In the first frame, Advani was trailing 23-56, but he took advantage of Mehta's miss as he posted a break of 60 to take a 1-0 lead.
"The way Aditya started, I never thought I would get to win the first frame. I think winning the first frame gave me the confidence to go ahead for a win. Had he managed to start off in a better way and finished it off to be 1-0 up, things could have been very different. When you know your opponent is very capable, you know you have to make use of the chances you get because you know there are going to be very few of them," Pankaj said after the win.
"I thought that whatever chances I get, I will get to score. I tried to play well today, I think I exceeded my own expectations and performed exceptionally well today."
It was challenging second frame with both the cueists refusing to concede an inch. Mehta led 13-9 before Advani wrapped it up in an unfinished 67 break with only the colours left. Mehta led 47-5 but Advani held his composure to cruise to a 3-0 lead and then was up 4-0 at the break.
After the break, Mehta thundered to a 101-0 lead with the first century break but it was too little too late as Advani produced his best in the sixth game to win his maiden title in the Kolkata Open with an identical break of 101.