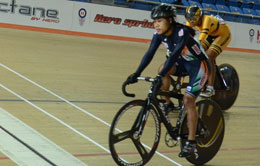 New Delhi: Deborah yet again proved to be the saviour for the hosts as the girl from the Andaman and Nicobar Islands won the 500-metre time trial gold in Women's Elite section on the opening day of the Track Asia Cup 2014 at the IG Stadium Complex Velodrome here today.

The Indian, who clocked 37.250 seconds for the distance, finished way ahead of the silver medallist from Kazakhstan, Tatyana Zadenepryanova and bronze medal winner Parul Akhtar of Bangladesh. The Kazakh girl timed 40 seconds while the Bangladesh 45.600 seconds.

It was Debora's gold that uplifted the mood of the Indian camp after the hosts had grabbed one silver and four bronze medals during the evening session. Debroah's race was the fourth in the order and the Indian, knowing full well that she had to beat Tatyana, was at the start gate. But she had picked a good speed, measuring up to 48.322 km per hour, peddled her way to finish the first 250 metres in 20.788 seconds.
That was a good indication as she, at that point of time, was No. 1 on the time chart. But she had another 250 metres to go and she upped the ante with a perfect sprint to the finish point clocking 48.322, clipping off a few milliseconds in the latter half as the sizeable crowd raised the din with a standing ovation.

But for this gold, India had to really struggle for a top podium finish as riders from Hong Kong, Thailand and Kazakhstan were heads and shoulders above the Indian competitors. Of the five other finals on the day, Hong Kong riders grabbed three gold medals in Men Elite 1-km time trial, Women Elite Points Race and in men junior's 1-km time trial, leaving the crumbs for the rest of the field.

However, Kazakhstan's Magomed Mamedov took home gold in Men's Elite Points Race while Thailand's Sarintip Diow-Archakun had a top-of-the-podium finish in junior women's 500-m time trial.

India's Rutuja Satpute and Parvathy V.G. also finished 2-3 for silver and bronze in the Women's Elite Points Race in which Hong Kong's Wong Wan Yiu Jaime won gold. The race saw just three competitions, besides the bronze by Amrit Singh in Men's Elite 1-km Time Trial to add to the booty. Similarly, India bagged a bronze in men's junior 1-km time trial by Krishna Naikodi and 500-m time trial bronze by Raj V.P. Sona in the women's junior section.

In women's points race, Parvathy could have finished ahead of eventual silver medalist Rutuja but she was docked points for being a lap behind. The winner from Hong Kong benefited from this Indian largesse as she had won 100 points for five gain laps besides the Indian's docked points going to her.

Amrit Singh, on whom India's hope was pinned, could not match up with neither Hong Kong's Kwan Wa Law, who won gold in 1-km time trial, or silver medallist Satjakul Sianglam of Thailand as the Indian had to be satisfied with the bronze with a time of 1:08.460. The gold winner had clocked 1:08.350 while the Thai had clocked 1:08.460.

The points race, which is an endurance event, the Indians showed they had a long way to go as riders from Hong Kong and Kazakhstan proved in the elite sections.

THE RESULTS (ALL FINALS):

Men Elite (1km Time Trial: Kwun Wa La (HKG) 1:08.350, Satjakul Sianglam (THA) 1:08.460, Amrit Singh (IND) 1:08.880.
Men Elite (Points Race): Magomed Mamedov (KAZ) 81 points, Boonratana Thanakoran (THA) 69, Ching Yin Mow (HKG) 52.
Men Juniors (1-km Time Trial): Maximillan Gil (HKG) 1:08.860, Chakhree Khruthangkha (THA) 1:10.630, Krishna Naikodi (IND) 1:12.870.
Women Elite (500m Time Trial): Debroah (IND) 37.250, Tatyana Zadepryanova (AZ) 40.000, Parul Akhtar (BAN) 45.600.
Women Elite (Points Race): Wong Wan Yiu Jamie (HKG) 128 points, Rutuja Satpute (IND) 27, Parvathy V.G. (IND) 5.
Women Juniors (500km Time Trial): Sarinthip Diow-Archakun (THA) 40.690, Wing Yee Leung (HKG) 40.990, Raj VP Sona (JND) 41.420.