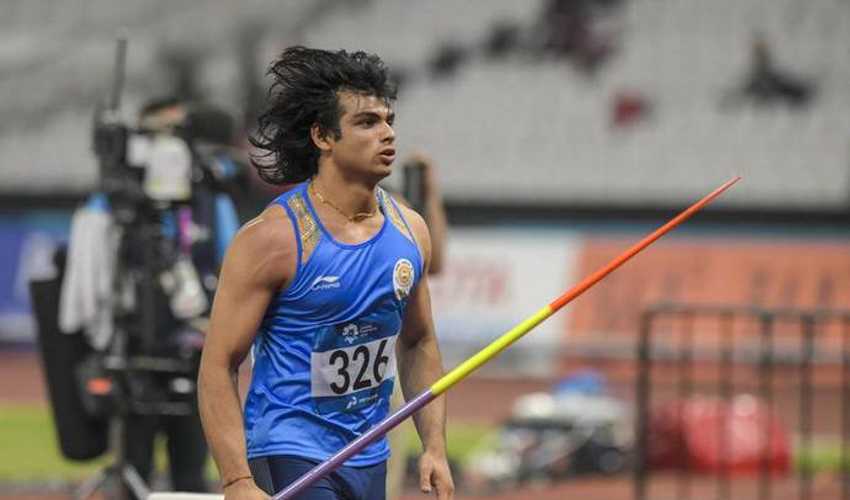 Budapest: Neeraj Chopra accomplished yet another remarkable milestone, here on Sunday, as he became the first Indian athlete to secure a gold medal at the World Athletics Championships. This triumph unfolded during the men's javelin throw final where in his second attempt Chopra impressively hurled the javelin a distance of 88.17 meters, securing the top position in the event. This achievement by Neeraj showcased a notable progression from his performance in the previous year's 2022 edition of the Championships, where he had earned a silver medal.
Despite a less-than-ideal start in the final, with a throw reaching only 79 meters, Neeraj Chopra expressed his dissatisfaction and chose not to register the score at all by deliberately stepping over the line, resulting in a foul. However, his second attempt in the final proved to be a game-changer. Buoyed by an enormous wave of crowd support, Chopra sprinted down the runway and, in characteristic fashion, began his celebratory gestures even before the javelin touched down.
Notably, Neeraj Chopra also joined an exclusive club of athletes, becoming only the third in history to simultaneously hold both the Olympics and World Championships titles in the javelin throw, following in the footsteps of the iconic Jan Zelezny of the Czech Republic and Andreas Thorkildsen of Norway.
Meanwhile, Arshad Nadeem from Pakistan, Chopra's compatriot, secured the second position with a distance of 87.82 meters, closely trailing the Indian gold medalist. Jakub Vadlejch from the Czech Republic claimed the bronze with a throw of 86.67 meters.
Among the other Indian javelin throwers competing, Kishore Jena and DP Manu delivered impressive performances, although they fell short of podium finishes. Both athletes secured positions in the top eight, finishing fifth and sixth respectively. Jena recorded his personal best with the highest throw at 84.77 meters, while Manu's best throw measured 84.14 meters.
Neeraj Chopra, the current top-ranked javelin thrower globally, had previously won Olympic gold in Tokyo 2020 but secured a silver at the World Championships in Eugene the following year, where Anderson Peters claimed the gold. The only other Indian athlete to medal at the World Championships was Anju Bobby George, who won bronze in the women's long jump in Paris in 2003.