Meet Arambam Boby Singh – a five-time Mr. World Body Building Champion, yet craving for recognition in a country where bodybuilding is still not considered a sport. Had he been half as successful a cricketer, fame and fortune would have knocked his door everyday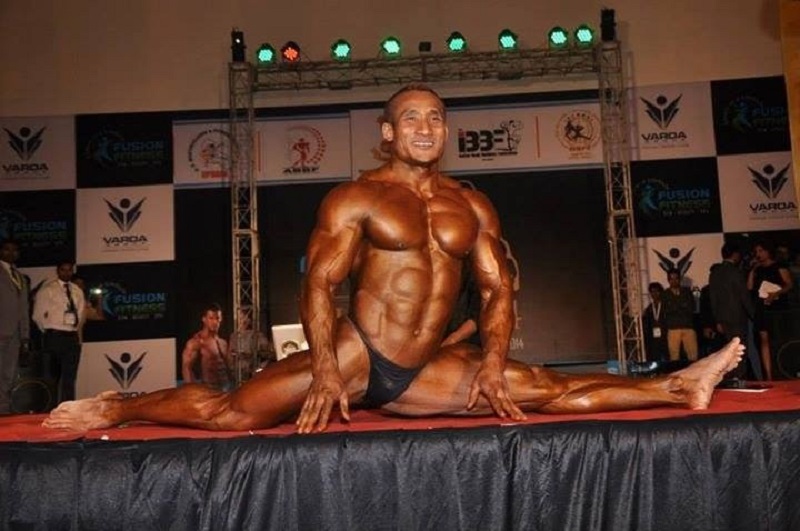 His story of struggle to achieving sporting success is truly inspirational. Here is an extra-ordinary story of a man from a humble background who lost his father when he was just two years old; a story of child whose mother worked hard in fields so that her six children could go to school; a story of a sportsman who couldn't afford proper diet because of monetary constraints; a story of a youngster who did odd jobs to earn a few bucks so that he could eat nutritious food; a story of a guy who followed his belief and through his sheer hard work and dedication went on to conquer the sporting arena.
Meet Arambam Boby Singh – a five-time Mr. World Body Building Champion, craving for recognition in a country where bodybuilding isn't a recognised sport. At the eighth World Bodybuilding and Physique Sports Championship 2016 (WBPF) held in Pattaya, Thailand, from November 19- December 5, 2016, he clinched his fifth World title in the 80 kg category. He had earlier won the WBPF titles in 2010, 2011, 2012 and 2015.
Had he been half as successful a cricketer, fame and fortune would have knocked his door everyday. In a freewheeling interview to Indian Sports News, the champion bodybuilder talks about his struggle, hopes, aspirations and expectations. Excerpts: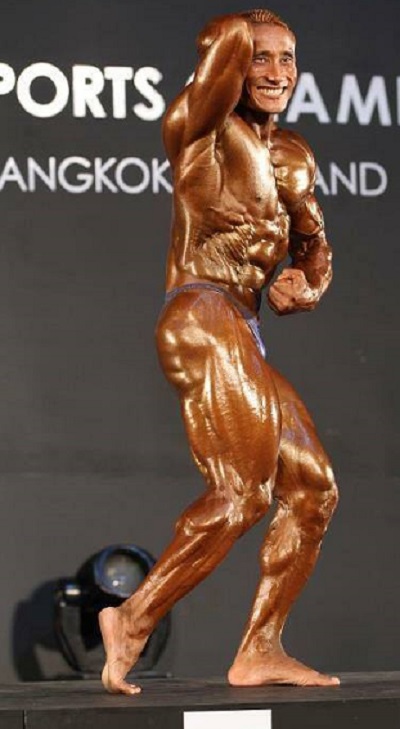 EARLY LIFE FULL OF STRUGGLE
"My father expired when I was around two years old. My mother faced a lot of difficulties in raising us as we were four brothers and two sisters. I am the second youngest. In fact my youngest sister was in her womb when my father died. My eldest sister was in Class X while my brothers were also going to school. But my mother didn't give up. She used to work hard in the fields to send all of us to school. Many times we survived just on rice and dal (pulses)," said Bobby, adding that he started doing gymnastics when he was around 12-13 years old. Bobby belongs from Lilong Chajing Mairenkhong Leikai in Imphal West
"I practiced gymnastics for 4-5 years at the Manipur University Campus near my village. The campus was around 4 km from our place. However, gymnastics was withdrawn from that centre and shifted to another place which was 12-13 km away from my village. I could not travel so much and therefore had to leave gymnastics. I also went to the Sports Authority of India (SAI) for one year. But I was young and immature and one day fought with a staff and was removed for the centre. Thereafter, I came back home," said Boby, adding that 4-5 years after leaving SAI was one of the most difficult phase of his life.
"But my love for the sports continued and I kept playing various sports, including football, taekwando and athletics. I became a good short distance runner (100, 200m) during this period. But life wasn't easy. I struggled a lot. My mother didn't even have money to buy me eggs, which are essential diet for a sportsman. But I didn't give up. I did labour works at times. I even used to carry bricks and assist mason in building works. Whatever I used to earn from that I used to spend on my diet. I had even started a chicken farm so that I could get regular supply of eggs. I even used to make baskets from bamboo for money. From that money I bought a cycle which made my movement easy," said the five-time 'Mr World', adding that finally some luck smiled on him as he got the information that Sashastra Seema Bal (SSB) group centre, which was 4 km from our home, would be recruiting two athletes (short distance runners).
SSB HAPPENED
"I applied and got selected as a constable. It was in 1993. When I got selected I was underage and was told to wait for some time. I requested that my family condition wasn't good. They gave me the assurance of the job and I waited and finally joined the SSB. I worked there for two-and-a-half years," said Boby.
"I had joined in the sports quota. We had to go out for practice to Manipur University ground outside the campus. One day my sister's friend noticed me practicing and said that I have a good physique. That encouraged me to go to gym. But then I had joined as a runner and bodybuilding wasn't allowed at the centre. I joined a gym without telling the authorities. Some of my seniors in SSB helped me and encouraged me to carry on my bodybuilding," he said.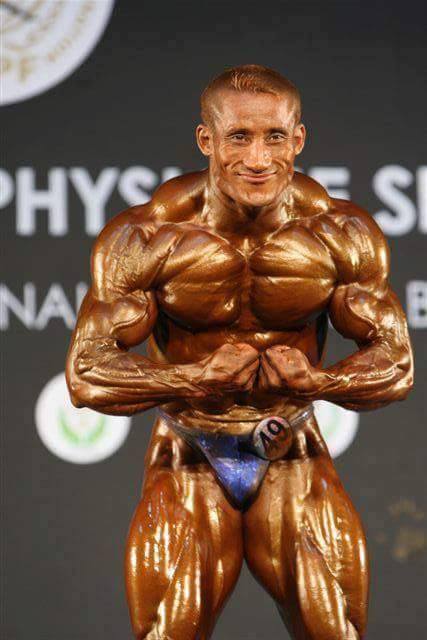 FORAY INTO BODYBUILDING
In all praise for his first trainer, Khoirom Yaskul Singh, Boby said that he helped him a lot. "His gym had nothing to be called a gymnasium. Everything was made of bamboo and discarded parts of various vehicles. But his dedication towards bodybuilding was immense. On the very first day he asked me to show him my body. He said that my body was good enough to be a champion in the upcoming Manipur Championships. Within two months of joining the gym, I participated in North-East Bodybuilding Championships at Jorhat, Assam in 1995 and became the champion in my category. But someone told my Commandant in-charge about my bodybuilding and that created a problem. I had asked him for leave to participate in the championships. Though he allowed me at that time, he said you go but after this you won't do athletics even and will be sent on ground duty," reminisced Bobby.
"But to my luck, a direct Commandant (Some Mr Tiwary…I don't remember his full name) was appointed and he was quite supportive. He gave me the permission to do bodybuilding. Had he not been there I would not have continued this sport. Then I became the Junior National champion in 1996. In 1996, I took part in Asian Championships in Delhi and represented India in juniors and got 4th place," said Boby, adding that pursuing bodybuilding was becoming difficult being in SSB.
JOB IN RAILWAYS
"But to my luck again, I got a call from South Eastern Railway, Kolkata. One of their coaches earlier had asked me if I wanted to join Railways and had taken my address. After sometime I got a call letter. I was told to report in Kolkata. I went there and was asked to submit my bio data. The coach said that the process will take around one month. I joined as a junior clerk in November, 1997. There I trained under Shambu Chatterjee," said Boby.
"In 1998, February, March, I took part in first Senior Nationals (70 kg) from Railways. I became the champion. I continued participating in Nationals and Inter-Railways Championships. In 1998 went to Senior Asian Champions to Vietnam. I bagged the fifth place. In 2003, I represented India in Mr World Championships but could not get any position. But participating in International Championships was a costly affair. So I confined myself to national championships. I have over 20 titles in Nationals and Inter-Railways Championships," informed Bobby, adding that not seeing any further scope in bodybuilding he decided to leave the sport and shift to Guwahati, which was closer to his home town.
SHIFTING BASE A BLESSING IN DISGUISE
"I applied for a transfer to NF Railway and the authorities agreed. But then I had to forfeit my promotion and grade because of this transfer. I worked in Kolkata for 12 years till 2009. But my shifting to NF Railway proved to be a blessing in disguise as the zone has a sporting culture. The officers in NF Railways supported me. They encouraged me a lot. NF Railway didn't have bodybuilding team then. I was the first to do that. Because of the support from my department, I started participating in Asian and World Championships. The people of Assam and the state's bodybuilding secretary B. Gowswami too supported me a lot. In 2010, I participated in the World Championships first time after 2003," said Boby.
"NF Railway supports me in whatever manner it can. They bear some of my expenditure when I travel abroad. The Assam bodybuilding federation encourages me and supports me. They promote me by arranging demo. I get some money through demos which I use on my die. Indian Body Builders' Federation secretary Chetan Pathare also helps me as much as he can," said Bobby.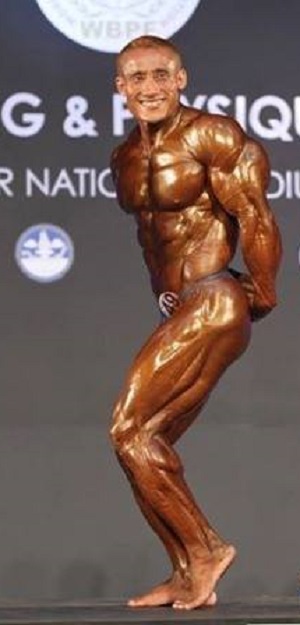 MR WORLD TITLE AND MORE
"In 2010 I became the World Champion in 75 kg category (Sr) in Benaras for the first time. I have been participating in the World Championships since then. I have seven medals – five gold, one silver and one bronze. I have won the Asian Championships two times, while have come second twice. I have also won the South Asian Championships three times," informed Boby.
NO GOVERNMENT SUPPORT
"Apart from the NF Railway, I haven't got any support from the government. I have applied for Arjuna Award four times, but in vain. One foreign trip drains me financially. If I go a place like Thailand, it costs me around Rs 45,000. To countries like Hungary, the expenditure is quite high," said Bobby, informing that he requires a good diet to continue this sport.
"A basic diet for bodybuilding costs me minimum of Rs 18000-20000. I need minimum of 15 eggs and 700gm chicken. The supplement food costs a lot. I am not being able to take the supplement regularly due to financial constraints. At times my friends help me with this," said Boby, adding that he would just want that the government to recognise bodybuilding as a sport.
TREAT BODYBUILDING AT PAR WITH OTHER SPORTS
"At least treat us at par with other sports. This will help the sports and we have the potential to take this sport to the top. Our performance is good despite the neglect. At least give us the basic facilities and support," he appealed to the government