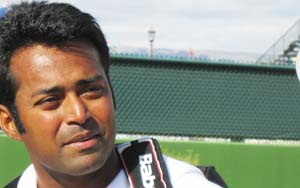 'Disneyland is never complete. It will continue to grow as long as imagination is left in the world'. Walt Disney's above words seems to suit Indian tennis ace Leander Paes as he continues to grow with time and age seems no bar for the tennis legend.

After 25 years on professional tour,105 male doubles partners,20+ female partners,17 Grand Slams,6 Olympics ,an Olympic medal and World number 1 title, he is still in search of partners and ravenous for silverwares.

Surely, tennis fans will be excited to see him joining hands with the mighty Rafael Nadal, who is just four years older than Paes's tennis career. This combo will exhibit their tennis legacy in Paris Masters this November, according to the post by Leander himself on his Facebook page. One side of the net in Paris will have 31 Grand Slams, 2 Olympic medals, and more importantly the gargantuan fan base.

It will be interesting to see how Indian flag bearer of tennis and an unstoppable force in men's tennis will combine their games. In spite of a dull season on ATP tour, Paes has tasted glory with three mixed doubles Grand Slam titles. On the other hand Rafa has started climbing fast to his peak glory after spending most part of the year in shadows of his past. The union is a delightful surprise to the people around the globe as the well achieved stars are still in process of learning and are thirsty for titles.

With people wishing Lee to play more tennis and loving to see injury-free Rafa, this union will bring the prayers to a single point. Results surely are not going to define their careers in future, but the character they are showing is what everyone should imbibe to their lives.
Mighty positive result is what everyone expects. But we can't enjoy rainbow during every rain. So let's enjoy the rain, rather worry about the rainbow. Let's live the moment!