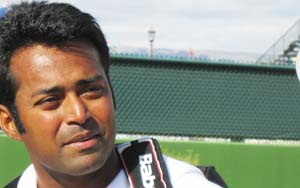 Olympics are just round the corner but all doesn't seem to be well with Indian tennis. All India Tennis Association (AITA) has to make a tough decision with regard to selecting the players who will go to London to represent the country and it's not going to be easy for them.

Leander Paes, who retained his seventh position in the ATP doubles rankings, is the only Indian player to have got direct entry into the mega event and should have been an automatic choice. But the politics, self egos, disliking and preferences within the players are making things difficult for choosing the right combination. Bhupathi, Bopanna's disliking for Paes is not unknown, and if reports are to be believed, the two have already shown their displeasure of partnering the Olympics bronze medalist.

And then AITA is also thinking about the mixed doubles, as Sania Mirza is too friendly with Mahesh Bhupathi and has recently won the French Open together. Sania too has shown her desire to play with Bhupathi and that leaves AITA with a few options.

The first that comes to mind is obviously Leander Paes pairing up with Mahesh Bhupathi for the men's doubles. Together the two did brilliantly before they decided to split. And then there is Rohan Bopanna, who has also done reasonably well in doubles off late. He is also a good player but the only match that Paes-Bopanna have played together in the Davis Cup, they lost comprehensively. Though Bhupathi and Bopanna have been playing together on the international circuit, keeping London Olympics in mind, the combination does not give the confidence of a medal prospect in London.


The fans, however, thinks that the best combination should be picked, and the players should come above their petty grudges and play for the nation in right interest. Let's see what some of the tennis fans have to say about the players who are trying to avoid each other:
"It is truly ridiculous. I seriously do not understand why players have to make it about themselves. Olympics is the biggest event of them all and players should feel like that. They do get the opportunities to play with whoever they want to play in the Grand Slams, but when we are talking about Olympics, it is not about an individual, it is about the entire nation. It is high time when players should stop thinking about their personal grudges and work towards a common goal," says Vikas Kashyap, tennis fan.

"I personally will be very disappointed if I don't get to see Bhupathi and Paes fighting it out for India in Olympics. I used to love seeing them play and winning Grand Slams. I thought that for Olympics they would be coming together once again. But it is very sad to see that the players are playing politics within themselves. Man! It is Olympics, I can still understand why these players do not play in Davis Cup, but it is Olympics that we are talking about. Please grow up," says Zakir Ahmed, another ardent fan of tennis.

Pankaj, meanwhile, thinks that Paes-Bhupathi should be paired together and AITA should make it very clear to them. "Bhupathi and Paes should play together that's the end of story. They have been the best doubles pair from India and it is time that they win it for the country this time. If Bhupathi goes, he can pair up with Sania and that can skyrocket India's chances in the mixed doubles category as well," says the tennis lover.


Meanwhile, Neeraj Jha, who is an ardent tennis fan of Paes-Bhupathi pair, said, "To win a gold medal one might have to go past the team of Bryan brothers and to defeat the best doubles players in the world, we need the best doubles players from India and that is Lee-Hesh. Both the players might not be playing for too long and it will most probably be their last Olympics and they should make that count. Please do it for one last time," says Neeraj.

"Together they can bring laurels for the country and that seems to be good enough reason for them to forget these petty issues," says Putul Tiwary.

Sushant Singh sums it up pretty well; he says "When personal ego becomes bigger than the country's pride, that is when the sportsman spirit dies."

BY Gaurav Jha
Indian Sports News Network