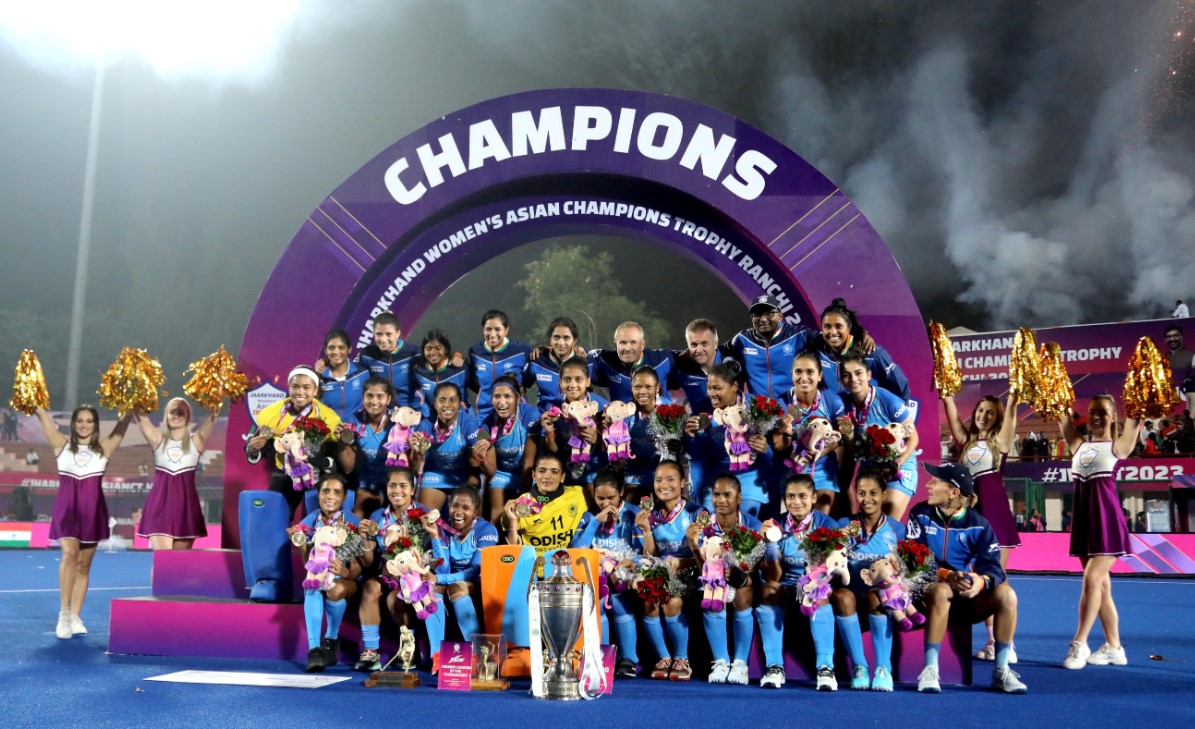 Ranchi: In a thrilling showdown at the Marang Gomke Jaipal Singh Astroturf Hockey Stadium, the Indian Women's Hockey Team secured a resounding 4-0 victory over reigning champions Japan, clinching the Jharkhand Women's Asian Champions Trophy Ranchi 2023 on a high note. This triumph elevated India's tally of Women's Asian Champions Trophy titles to an impressive two.
Sangita Kumari (17'), Neha (46'), Lalremsiami (57'), and Vandana Katariya (60') netted a goal each for India.
In recognition of their exceptional performance, marked by an undefeated streak throughout the tournament and their title victory, Hockey India declared a reward of Rs 3.00 Lakhs for each member of the Indian Women's Hockey Team and Rs 1.50 Lakhs for each member of the support staff.
In a fashion reminiscent of their prior meeting with Japan during the Pool stage, India once again launched an assertive strategy from the outset, exerting continuous pressure in an effort to disconcert the reigning champions. The hosts made a promising foray toward the goal when Deepika positioned herself perfectly to secure an early lead, but her shot was saved by Japan's goalkeeper Eika Nakamura.
India maintained their offensive pressure, consistently penetrating the circle and testing Japan's steadfast defense, which remained resolute, frustrating India's endeavours to break the deadlock. As the first quarter concluded, the score remained level, and the match remained goalless.
Nevertheless, India persisted in their efforts to shatter the deadlock, and their determination bore fruit early in the second quarter, with Sangita Kumari (17') delivering a superb finish to put her team in the lead. However, this setback urged Japan, prompting them to mount counterattacks and apply pressure on the Indian squad. Japan even delivered a nerve-wracking moment for India when Shiho Kobayakawa appeared to score a goal, but a successful video referral by India revealed that the ball had touched Shiho's hand before she found the back of the net, thus leading to the goal being disallowed.
Furthermore, Japan earned three consecutive penalty corners, but India's resolute defense denied any potential comeback, allowing the hosts to enter halftime with a 1-0 advantage.
With the intention of broadening their advantage, India commenced the third quarter with an intensified offensive, displaying relentless determination. Nevertheless, Japan not only showcased formidable defensive strength to thwart the Indian onslaught but also seized control of possession, attempting to turn the tide of the game in their favour. Amidst these efforts, the Indian squad persistently probed Japan's defensive lines at regular intervals to sustain their momentum. Simultaneously, Japan intensified their offensive endeavours, yet neither team managed to breach the opposing goal in the penultimate quarter, concluding with India maintaining a 1-0 lead.
The fourth and final quarter commenced with India securing three consecutive penalty corners, and on the third attempt, they finally found success as Neha (46') deftly deflected the ball into the net, extending the Indian team's lead to 2-0, providing them with a much-needed cushion. Nevertheless, Japan kept the Indian defenders on alert, and they earned a penalty stroke in the last eight minutes of the match. But India's Captain, Savita, exhibited remarkable skills, making a crucial save to preserve her team's two-goal advantage.
Moreover, in the closing moments of the match, Lalremsiami (57') delivered a goal via a penalty corner, while Vandana Katariya (60') executed a splendid field goal, sealing a commendable 4-0 triumph for India.
Offering his heartfelt felicitations to the Indian team for their remarkable victory, Hockey India President Padma Dr. Dilip Tirkey remarked, "On behalf of Hockey India, I extend my warmest congratulations to the Indian Women's Hockey Team for their outstanding performance and their triumphant capture of the Jharkhand Women's Asian Champions Trophy Ranchi 2023. Your unwavering dedication and strenuous efforts have brought immense pride to the nation, underscoring your resolute commitment to the sport of hockey. Continue to shine, and we eagerly anticipate witnessing more extraordinary victories in the times ahead."
Hockey India Secretary General Bhola Nath Singh added, "It gives me great pleasure to extend my heartiest congratulations to the Indian Women's Hockey Team for their exceptional achievement in securing Jharkhand Women's Asian Champions Trophy Ranchi 2023 title. Your remarkable tenacity and cohesive teamwork have been truly extraordinary, and your accomplishments serve as a wellspring of inspiration for budding hockey players all across the nation. We take immense pride in your achievements and eagerly anticipate even greater feats in the future. Well done!"