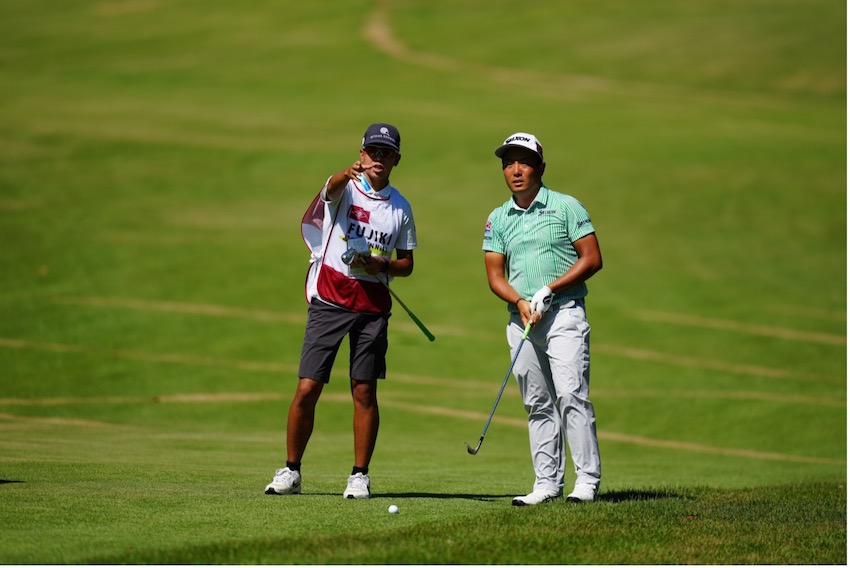 Yuki Inamori battled through challenging windy conditions to preserve a two-shot lead after the third round at the inaugural Yokohama Minato Championship - Fujiki Centennial on Saturday.

The 28-year-old traded three birdies for as many bogeys for an even-par 70 at the Yokohama Country Club, maintaining the lead he has held since the opening day.

Inamori's three-day total of 10-under-par 203 placed him two shots ahead of Keita Nakajima and Ryutaro Nagano, both of whom surged into contention with matching 67s to share second place.

Inamori also has another group to worry about, as the trio of Taihei Sato (66), Taiga Semikawa (68), and Kosuke Suzuki (70) are trailing by just three shots.

Also within striking distance are Kazuki Yasumori (67), Naoyuki Kaneda (68), and South Korea's Lee Sang-hee (69), who are tied for seventh place on 207.

Inamori, a five-time JGTO winner, conceded a bogey early on the second hole, but he rebounded by birdieing the third and fifth.

However, he struggled to make further progress, managing only a birdie on the 13th to counterbalance two bogeys on the 12th and 15th.

"Well, I think I held up well. I had some opportunities with my shots but couldn't convert all of them. I made several par saves and was able to finish without any severe damage," said Inamori.

"The wind was strong, which made judging vertical distances really challenging. My mind was filled with thoughts about the wind. While I did glance at the leaderboard, trying to force birdies, especially in this wind, would have been akin to digging my own grave. So, I focused on each shot in front of me."

Nakajima was pleased with his performance, skillfully navigating the tricky wind conditions and positioning himself for a chance to secure his second title of the season.

"The timing and direction of the wind can change abruptly, but I thought it was unwise to make a shot while uncertain," said Nakajima, who began the tournament with a pair of 69s.

"So, I determined my club choice, ball trajectory, and target firmly before playing. I understood that I couldn't control the wind after the ball was in the air. Thus, I tried to trust myself as much as possible and just play.

"I've been able to maintain consistent play, but some costly mistakes have held me back from reaching double digits under par. Given that there won't be any tournaments for the next two weeks, I plan to give my all tomorrow and aim for a strong finish."

Leading third round scores:
203: Yuki Inamori 65-67-71;
205: Keita Nakajima 69-69-67, Ryutaro Nagano 72-66-67;
206: Taihei Sato 70-70-66, Taiga Semikawa 71-67-68, Kosuke Suzuki 69-67-70;
207: Kazuki Yasumori 72-68-67, Naoyuki Kaneda 69-70-68, Lee Sang-hee (Kor) 68-70-69;
208: Kota Kaneko 70-70-68, Eric Sugimoto 68-70-70, Dylan Perry 69-69-70, Taisei Shimizu 73-61-74.