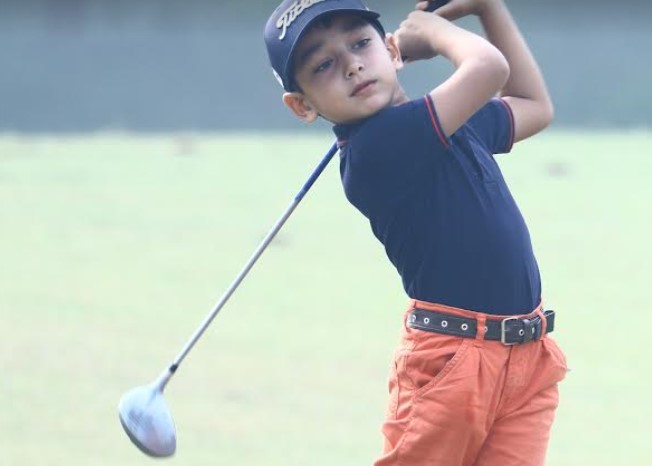 Pinehurst: Ojaswini Saraswat, a past medallist at the US Kids Golf World and European Championships shot the day's equal second-best round of 68 and moved one place up to fourth place in Girls 10 Category at the 2023 US Kids World Championships in Pinehurst.
The Mohali golfer carded 4-under 68 that included an eagle on Par-5 13th and three birdies in a row from seventh to the ninth holes. Overall, she had four birdies, an eagle and two bogeys. Ojaswini (72-68) is now Tied-fourth and three behind joint leaders, Americans Jessica Kim (69-68) and Iris Lee (67-70) at Southern Pines Golf Club.
There were still three Indians in Top-5 of various sections as Ojaswini (Girls 10) and Nihal Cheema (Boys 6) were fourth and Tied-fourth respectively, and Kabir Goyal (Boys 8) was Tied fifth.
Nihal Cheema, lying tied-second after the first round slipped to Tied-fourth among Boys Under 6, as he finished bogey-bogey for a 1-over 37 in his nine-hole round. Cheema (34-37) is now 1-under 71 for two rounds of nine holes each and is five shots behind Bradley Ferguson (33-33) at Midland Country Club.
Kabir Goyal (Boys 8) had a birdie finish in his second nine-hole round, but his three earlier bogeys saw him finish at 2-over 38 and he slipped from Tied-fourth to Tied-fifth. At 2-over 74 he is four shots behind leader American Stephen Sanders (35-35) at Mid Pines (Back).
For Boys Under the age of eight years and Girls Under the age of nine years play on nine-hole courses in a competition, where the layouts are age-specific in the only world event of its kind.
Among other Indian boys, Sahib Aujla (43-47) in Boys 8 was T-76 at Midland Country Club and in Boys 10 Adit Veeramachaneni (78-72) improved to T-45 at Legacy Golf Links. In Boys 11, Chaitanya Pandey (74-75) was T-36 at Talamore Golf Club.
In Girls 11, Naina Kapoor (81-80) was T-39 at Pinehurst 6 while In Girls 12, Shambhavi Chaturvedi (74-75) was T-22 and Ananyaa Sood (74-74) was T-31 at Pinehurst 5.
In Girls 7, Vedika Bhansali (36-37) was Tied-10th, while teammate Ahana Shah (38-41) was T-18 at Midland Country Club.