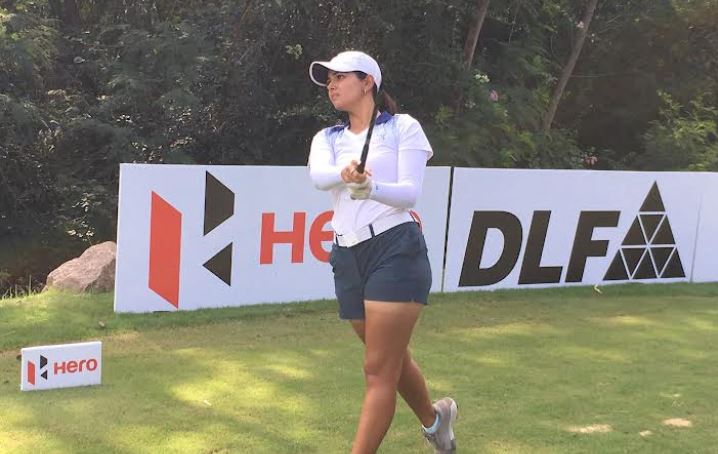 Bengaluru: Seher Atwal, flying in straight from Singapore where she played in Singapore Ladies Masters, produced two birdies in the last four holes to card 2-over 69 at the Par-67 Bangalore Golf Club. With no under par scores during the day, she got into a share of the lead after the first round alongside Sneha Singh and amateur Mannat Brar, who birdied the 18th.
Tvesa Malik dropped three birdies in a row in the middle of the round between the 10th and 12th, but managed to hang in with 3-over 70 and a share of the fourth place alongside Durga Nittur and Ananya Datar.
Seher seemed to struggle with a string of six pars and a double bogey on the Par-4 seventh. She then dropped shots on the 10th and 11th and was 4-over through 11 holes. Three more pars followed before she birdied 15tth and the 18th.
Sneha also had a tough start with bogeys on second and third. She had two more bogeys, but also birdied sixth and ninth.
With amateurs doing extremely well in recent weeks on the Hero WPG Tour, Mannat ensured the trend continued. She began bogey-birdie-bogey and added a bogey on seventh to turn in 2-over. A bogey on 11th and a birdie on 18th meant she shot 69 at the Par-67 course.
Gaurika Bishnoi making a return after missing the last two legs had just one birdie in her round of 4-over 71 and she was tied seventh with Gauri Karhade.
Six players Oviya Reddi, Jasmine Shekar, Hitaashee Bakshi, Saaniya Sharma, Shweta Mansingh and amateur Prakruthi Sastry shot 5-over 72 and were tied ninth.
Last week's winner, Neha Tripathi had a rough start with 6-over 73 with double bogeys and two other bogeys and was tied 15th
Tee times for the second round of the 11th Leg of the Hero Women's Pro Golf Tour at the Bangalore Golf Club:
1. 7:30 am: Krishaa Nichani (A) 83, Nayanika Sanga 82, Anaggha Venkatesh 82;
2. 7:40 am: Marshneil Prasad 81, Anousha Tripathi 80, Rhea Jha 79;
3. 7:50 am: Vrinda Yadav 79, Rhea Purvi. S. 78, Disha Kavery 77;
4. 8:00 am: Ravjot K Dosanjh 77, Karishma Govind 77, Sachika Singh 76;
5. 8:10 am: Anisha Agarwalla 76, Mehar Atwal 75, Ishvari Prasanna 75;
6. 8:25 am: Snigdha Goswami 75, Saanvi Somu (A) 75, Shagun Narain 75;
7. 8:35 am: Suchitra Ramesh 75, Kriti Chowhan 74, Khushi Khanijau 74;
8. 8:45 am: Agrima Manral 74, Rishika Muralidhar 74, Neha Tripathi 73;
9. 8:55 am: Riya Yadav 73, Prakruthi Sastry (A) 72, Shweta Mansingh 72;
10. 9:10 am: Saaniya Sharma 72, Hitaashee Bakshi 72, Jasmine Shekar 72;
11. 9:20 am: Oviya Reddi 72, Gaurika Bishnoi 71, Gauri Karhade 71;
12. 9:30 am: Ananya Datar 70, Durga Nittur 70, Tvesa Malik 70;
13. 9:40 am: Sneha Singh 69, Seher Atwal 69, Mannat Brar (A) 69;