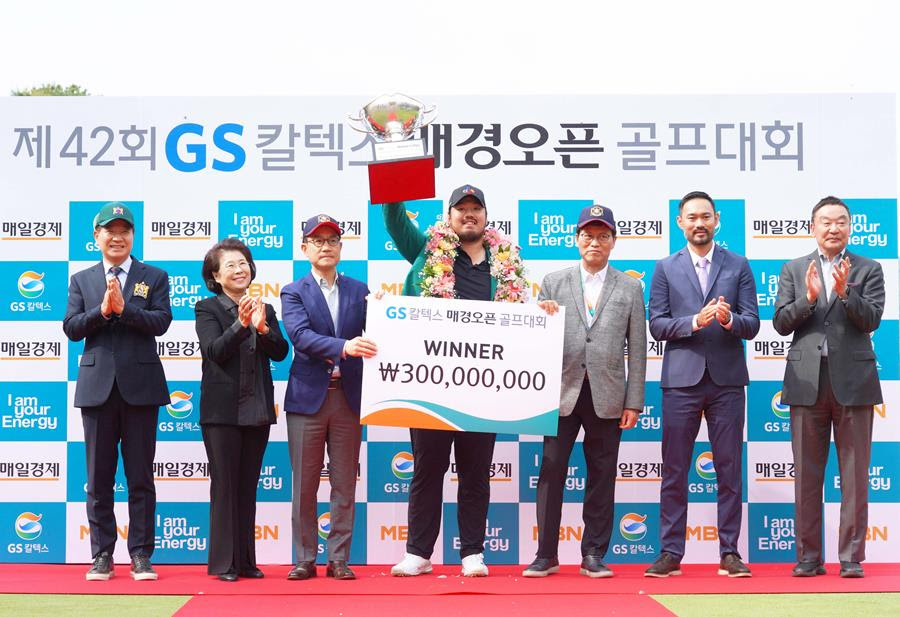 Seongnam: Korean Chanmin Jung completed a shock wire-to-wire victory in the GS Caltex Maekyung Open today, establishing him as one of his country's stars of the future.
He shot a final round five-under-par 66 for a tournament total of 16 under par and a commanding six-shot victory at Namseoul Country Club, in Seoul.
Korea's Minhyuk Song, an amateur, and Junghwan Lee tied for second following rounds of 64 and 70 respectively, in an event reduced to 54 holes after Saturday's third round was cancelled because of poor weather and a waterlogged course.
Their compatriots Jaekyeong Lee (66) and Eunshin Park (67) tied for fourth, one shot back, while defending champion Bio Kim, also from Korea, finished in a tie for sixth, an additional stroke behind, following a 70.
Until this week, Jung was best known as one of the biggest hitters in Korea – he topped the driving distance stats on the Korean PGA Tour last year – and had only finished in the top 10 twice in domestic events since turning professional three years ago.
That all changed this week with an inspired and unexpected victory, that has helped him live up to his nickname the 'Korean Hulk'.
He led after the opening day with a 63 and had a two-shot advantage after his second round 68, which he started today's round with after yesterday was washed out.
A brilliant front nine of five-under-par 31, with an eagle – the result of holing his bunker shot on the par-five fourth – and three birdies, put him six ahead at the turn, before he stylishly closed out the event with nine straight pars on the second half.
"I won a big tournament wire to wire, so I feel good," said the 23 year old, who won US$222,222.
"I sensed the victory with an eagle on the fourth hole. After that, I felt at ease. I used my driver on nine holes today, I used it often because I was confident.
"My putting has changed a lot, I had a lot of worries before, but it's solved, the anxiety is gone."
Said Song, also the low amateur here last year: "I played very well today; both my putting and shots were so good that I quickly forgot any disappointment after I made a mistake.
"As an amateur I'm thrilled to finish in second place. Last year I was tied for the lead after two rounds, but it's great to finish second in the final round."
He said he plans to turn professional this year and is hoping to play in the Asian Tour Qualifying School soon.
Junghwan Lee was equally content with his week, and conscious that the runaway winner was just too good.
He said: "I missed getting the trophy, but Chanmin Jung played very good golf! Personally, I'm satisfied, I consistently made birdies this week. My game is very good now, I wonder if my shots have ever been this good after I spent the winter training in Thailand."
The next event on the Asian Tour will also be staged in the Land of Morning Calm, with the Kolon Korea Open to be played at Woo Jeong Hills Country Club, from June 22-25.
Scores after round 3 of the The 42nd GS Caltex Maekyung Open Golf Championship being played at the par 71, 7062 Yards Namseoul Country Club course (am - denotes amateur):
197 - Chanmin Jung (KOR) 63-68-66.
203 - Minhyuk Song (am, KOR) 68-71-64, Junghwan Lee (KOR) 67-66-70.
204 - Jaekyeong Lee (KOR) 72-66-66, Eunshin Park (KOR) 69-68-67.
205 - Hanmil Jung (KOR) 68-68-69, Bio Kim (KOR) 67-68-70.
206 - Wooyoung Cho (am, KOR) 71-70-65, Sungho Lee (KOR) 72-70-64, Yubin Jang (am, KOR) 71-64-71.
207 - Gyumin Lee (KOR) 70-68-69, Nitithorn Thippong (THA) 69-68-70, Doyeob Mun (KOR) 68-69-70, Atiruj Winaicharoenchai (THA) 69-67-71.
208 - Jinsung Kim #875 (KOR) 73-68-67, Kyungnam Kang (KOR) 69-70-69, Jeongwoo Ham (KOR) 67-71-70, Dongmin Kim (KOR) 68-70-70, Junggon Hwang (KOR) 71-67-70.
209 - Sanghyun Park (KOR) 68-72-69, Bongsub Kim (KOR) 71-70-68, Steve Lewton (ENG) 69-72-68, Hanbyeol Kim (KOR) 68-70-71, Sungmin Cho (KOR) 68-70-71, Innchoon Hwang (KOR) 67-69-73.
210 - Hongtaek Kim (KOR) 70-70-70, Heungchol Joo (KOR) 67-71-72, Jaeho Kim (KOR) 69-72-69, Karandeep Kochhar (IND) 69-69-72, Richard T. Lee (CAN) 71-71-68.
211 - Taehoon Ok (KOR) 69-71-71, Zach Murray (AUS) 75-67-69, Minchel Choi (KOR) 69-69-73, Mingyu Cho (KOR) 71-71-69.
212 - Sarit Suwannarut (THA) 72-69-71, Lee Chieh-po (TPE) 72-68-72, Jeev Milkha Singh (IND) 71-70-71, Miguel Carballo (ARG) 66-73-73, Yoseop Seo (KOR) 69-70-73, Natipong Srithong (THA) 70-69-73, Jinjae Byun (KOR) 74-68-70, Dongkyu Jang (KOR) 70-72-70.
213 - Jinho Choi (KOR) 68-72-73, Kyongjun Moon (KOR) 65-75-73, Ian Snyman (RSA) 73-68-72, Settee Prakongvech (THA) 71-70-72, Wonjoon Lee (AUS) 71-70-72, Kevin Yuan (AUS) 76-64-73, Hyunuk Kim (am, KOR) 67-71-75, Prom Meesawat (THA) 68-70-75.
214 - Phachara Khongwatmai (THA) 70-70-74, Terry Pilkadaris (AUS) 69-71-74, Rattanon Wannasrichan (THA) 72-68-74, Jiho Yang (KOR) 70-69-75, Seonghyeon An (am, KOR) 69-72-73, Honey Baisoya (IND) 69-72-73, Taehee Lee (KOR) 73-69-72, Teayang Jung (KOR) 70-65-79, Hyungsung Kim (KOR) 69-73-72.
215 - Junseok Lee (AUS) 72-70-73, Scott Hend (AUS) 71-71-73, Yonggu Shin (CAN) 68-74-73.
217 - Kyungnam Park (KOR) 73-68-76, Chan Shih-chang (TPE) 71-70-76, Osung Kwon (KOR) 69-72-76, Nicholas Fung (MAS) 73-69-75, Jaemin Hwang #859 (KOR) 70-72-75.
218 - Sanghee Lee (KOR) 73-69-76, Gaganjeet Bhullar (IND) 72-70-76, Suteepat Prateeptienchai (THA) 69-73-76.
219 - Jinichiro Kozuma (JPN) 68-72-79, Yosuke Asaji (JPN) 70-71-78, Ryosuke Kinoshita (JPN) 73-69-77.