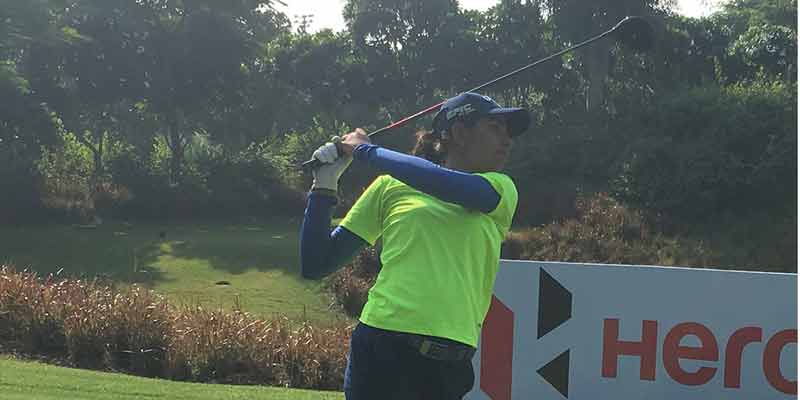 Gurugram: Diksha Dagar plundered the back nine with four birdies against one bogey to grab the lead as overnight leader Tvesa Malik had a disappointing day in the second round of the 13th Leg of the Hero Women's Pro Golf Tour at the Gary Player layout in the DLF Golf & Country Club.
Diksha, who flew in straight from Europe for the event, bettered her first round 73 with a fine four-under 68 that took her total to three-under 141. Tvesa on the other hand fell to one-under 143 as she carded three-over 75, which had just one birdie and four bogeys. As of now only Diksha and Tvesa have carded under par totals. That put Diksha is a strong position going into the final round.
Interestingly, Diksha's only win on the Hero WPG Tour has come as an amateur in the last event of the 2017 season.
The current season of 2019 is her rookie season as a pro, and Diksha has already won the South African Women's Open on the Ladies European Tour.
Even as Diksha holds a two-shot lead over Tvesa, the latter is another three shots ahead of Gursimar Badwal (73) and Gaurika Bishnoi (74), who are Tied-third.
Gursimar had three birdies on the front nine against one bogey, while she had three bogeys on the back nine for a total of 73, the same as the first day.
Gaurika had two birdies against four bogeys, three of which were on the front nine.
Ridhima has been having a quiet run after her win in the ninth leg, which was her third win of the season. Since then she has had a best finish of Tied-seventh, ans so will be looking at a good finish here.
Vani Kapoor (76) and Gurjot Badwal (77) are Tied-seventh, while Siddhi Kapoor (79) and Gauri Karhade (82) are Tied-ninth.
Sneha Sharan is the leading amateur and Tied-11th alongside Amandeep Drall.
Tee times for Final Round, Leg 13 of Hero Women's Pro Golf Tour at the DLF Golf and Country Club:
7:30 AM: Oviya Reddi 177, Ananya Datar 166, Afshan Fatima 162;
7:40 AM: Khushi Hooda (A) 161, Khushi Khanijau 161, Shriya Vivek 160;
7:50 AM: Jahanvi Bakshi (A) 160, Asmitha Sathish (A) 159, Ishvari Prasanna 158;
8:00 AM: Sneha Sharan (A) 157, Amandeep Drall 157, Gauri Karhade 155;
8:10 AM: Siddhi Kapoor 155, Gurjot Badwal 149, Vani Kapoor 149;
8:20 AM: Neha Tripathi 148, Ridhima Dilawari 148, Gaurika Bishnoi 146;
8:30 AM: Gursimar Badwal 146, Tvesa Malik 143, Diksha Dagar 141;