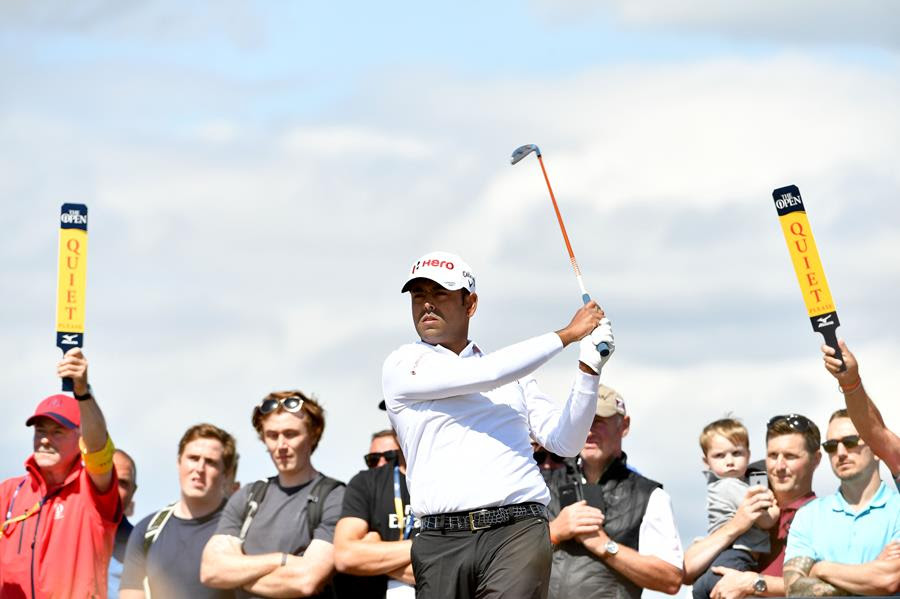 Indian stalwart Anirban Lahiri believes the feel-good factor will stand in his favour when he makes his sixth attempt at The 147th Open at Carnoustie starting Thursday.
The 31-year-old Lahiri, who was crowned the Asian Tour Order of Merit champion in 2015, hopes to bank on his familiarity with the prestigious tournament as he bids for the Claret Jug at the year's third Major championship.
"There is a feeling of familiarity at The Open. This is the Major championship which I have played the most number of times. I was telling my caddy that I even recognised one of the security guards here. I don't feel out of place at The Open. Everything is set up like it has always been so it feels really nice to be back," said Lahiri.
Lahiri, a seven-time Asian Tour winner, made his Major debut at The Open in 2012 where he came in tied-31st. He finished one rung better in 2015 to mark his best result at the world's oldest Major championship.
Also in his breakout year in 2015, Lahiri clinched a solid tied-fifth finish at the PGA Championship for his career-best result in a Major championship.
"For me, the more important thing is to play well. I want to do better than what I have done before. I know I can do that because I have contended in Majors in the past. I am getting a lot of confidence from the golf I am playing right now.
"It is not the typical Open, which used to be wet and cold so that makes me more comfortable. The course also reminds me a bit of the Delhi Golf Club, where one can keep hitting two-Irons and keep the ball in play," Lahiri added.
Lahiri has been plying his trade on the PGA Tour since 2015. He has captured three top-10 finishes so far this season.
"It has not been the typical preparation for me. I usually play the Scottish Open and then The Open but this time, I came straight from the United States.
"Also for logistical reasons, I have played only 18 holes. Normally I would have played 36 by now. But having said that, I am still very comfortable in that I have not overplayed. There is no nervousness," he said.
Lahiri will fly the Indian flag alongside rising star Shubhankar Sharma, who leads the Asian Tour Habitat for Humanity Standings, at The 147th Open.