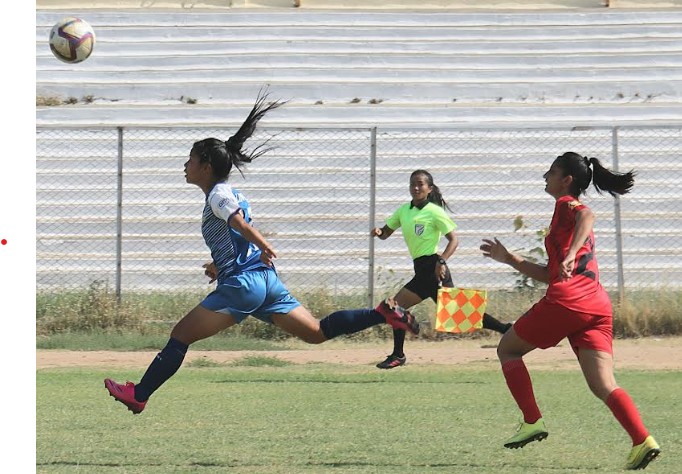 Kickstart FC finished the group stages of the ongoing Indian Women's League (IWL) on a high note with a dominating win over Central Reserve Police Force Football Club (CRPF FC) in their last group-stage match at Ahmedabad on Saturday morning. The team had an initial blip in their campaign but had been on an unbeaten run for the last five matches.
Coach Langam Chaoba Devi made a few changes to the line-up that held the former Champions Sethu Madurai in their last match, with Renuka, Sonia Marak, and Susmita Lepcha starting as Kioko Elizabeth, Devneta Roy, and Kaviya did not make the cut.
Kickstart FC started the match dominantly as Sonia Mark crossed a ball to Saru Limbu, who scored in the second minute of the game. From then on, Kickstart FC dominated the proceedings, scoring goals at regular intervals till the half-time break. Saru Limbu and Bibicha Devi both scored a brace, while Susmita Lepcha chipped in with a goal to make it 5-0 at halftime.
The trio of Astam, Renuka, and Saru Limbu dominated the proceedings in the middle of the park, and Astam extended the lead to 6-0 in the 56th minute. In the 72nd minute, the CRPF FC goalkeeper was forced into an own goal to further extend the lead. The second half also saw an extraordinary strike from captain Dalima Chibber, who scored from almost halfway of the pitch. Rejiya, who came in as a substitute for Soniya Marak, also scored a goal in injury time, taking the final tally to 9-0.
Bibicha Devi of Kickstart FC was named the Hero of the Match for her outstanding performance.

With this win, Kickstart FC concluded the group stage of the ongoing IWL with a set of noteworthy strong performances and secured a spot in the quarter-finals of the tournament. The team is looking forward to the next match, and the final position of the teams in the group table will be determined after the last group stage match on May 13th.
Full Time: CRPFC FC 0-9 Kickstart FC