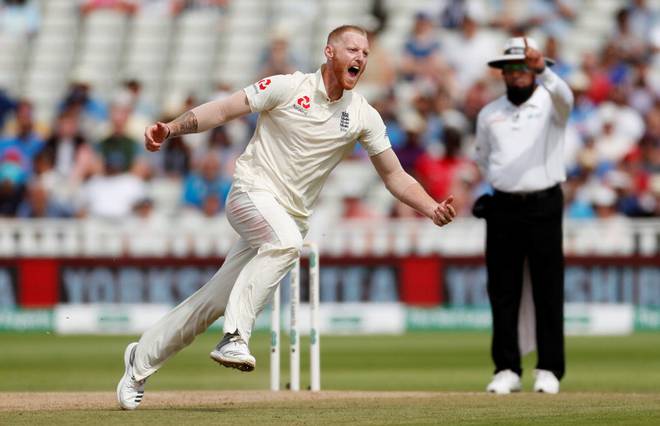 It was never a battle between England and India, it was always England vs Virat in this test. On Day 4 and when Virat departed after Ben Stokes was introduced into the attack, it was certain that India have lost yet another Test Match where in retrospection the result could have easily gone the other way. However, stats will show that England won their 1000th Test Match, one of the most thrilling contests of recent times.
Virat was given Leg Before Wicket when India needed 53 more runs to win. The last 3 wickets together could only muster 21 runs, despite Hardik Pandya showing some kind of intent and resistance and being the only batman apart from Virat Kohli to have made an attempt to apply himself, given the circumstances.
For an England side, who "dreamt" of getting Virat out and winning the game, Ben Stokes was their star with the ball, who not only picked up Virat but picked up a couple more to help breathe England a sigh of relief and win them a game after the hosts gave the visitors many chances to come back into the game.
According to Virat Kohli, the second innings in the famous Adelaide Test of 2014 and the first innings of the Birmingham Test, saw him produce two of best innings. The pint worth noting is that on both occasions, India couldn't cross the line. In the former he had left India 60 to get. In the latter, 57 and on both occasions India were not able to win the game, games which would have been a walk in the park had at least one or two more batsmen stepped up to the occasion.
That describes India's plight in overseas Test Series. Virat has accounted for more than 20% of the runs scored by the Indian Team and the equation seems to be quite simple for the hosts- Get Virat, win the game. Even in this Test, Virat alone scored 200 runs, while all others including the likes of Shikhar Dhawan, KL Rahul, M Vijay, Ajinkya Rahane could only manage 200. India were left just 31 runs short of the target set up by England.
These are the kind of defeats that pinch you for it is so near yet so far and it may stay far away from the Indian side if the Indian batsmen do not take their game to the next level. While the bowlers did a commendable job, fielding too was below par by both the teams. From the game at Edgbaston, one thing is clear that England may keep giving India chances but until and unless India's batsmen are ready for the challenge they will keep on losing such close games.
Both the teams meet at Lord's, London for their next Test on the 9th August, 2018.