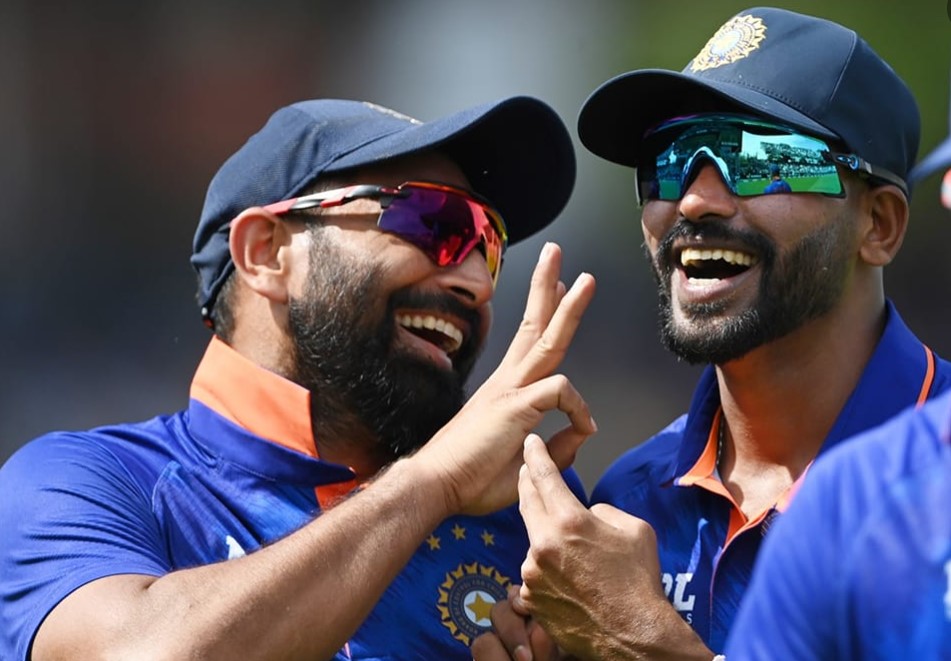 Dharamsala: India secured a notable victory against New Zealand in Dharamsala on Sunday, with Virat Kohli and Mohammed Shami emerging as key contributors in their 4-wicket triumph. Mohammed Shami's impressive five-wicket haul (5 for 54) proved pivotal in limiting New Zealand to 273, despite Daryl Mitchell's commendable 130 and Rachin Ravindra's solid 75. During the chase, Rohit Sharma's early 46 laid a strong foundation, setting the stage for Virat Kohli's stellar 95-run performance to take center stage. India successfully chased down the target within 48 overs, propelling the Rohit-led squad to the distinguished status of the sole unbeaten team in the Cricket World Cup 2023.
Terming it as a good start for India at the tournament, India captain Rohit Sharma said that the job is still only half done. Showering praise on Mohhamad Shami, Sharma said that Shami seized the opportunity with both hands. "He's got class and so much experience, and he used the conditions really well. At one stage, New Zealand put up a big partnership there. Dew also came in. But we have to give credit to the bowlers in the backend."
"Shubman and I complement each other quite well in the middle. We couldn't get enough runs ourselves, but we are happy to win. There's not much to say about Virat. We've seen him do this for so many years. He backs himself to do the job. Towards the end, there was a bit of pressure with a few wickets lost, but Kohli and Jadeja took us home. Fielding is something we pride ourselves on. It wasn't as clinical as we would like it to be. There were a couple of dropped catches, but those guys are good; Jadeja is among the best in the game. We love traveling and playing in different parts of the country. So far, we have not been disappointed, and we have not disappointed the crowd as well," said the skipper.
Tom Latham, New Zealand's stand-in captain, said, "We didn't capitalize in the last ten overs (with the bat). India bowled well in the death, and we left a few runs out there. With the ball, we never got a double breakthrough. I don't think we capitalized; we were 30-40 runs short. Daryl and Rachin set us up well for the back ten. From a batting point of view, Ravindra and Daryll provided the perfect blueprint. Those are positions we want to be in, and when we get things right at the back end, we are dangerous. Kohli played a fantastic innings. He controlled the tempo, and the rest could bat around him. As a captain, you have to be proactive but also work to your plans. Think about match-ups. Virat has a response to most plans. The fog was very random - sometimes you get into random situations. A few days off, and next is a day game in about a week (against Australia)."
Mohammed Shami, who was the Player of the Match for his 5-54, said, "When you come back after a long time to the XI, it is important to gain confidence early. That first game helped build that confidence," he says. "It's not too hard (waiting on the sidelines) if your team is doing well. They are your teammates, and if they are doing well, then you should be supporting them. If it's in the team's interest, I'm okay with it. The wickets are important because we were the top 2 teams of the World Cup playing," he said.