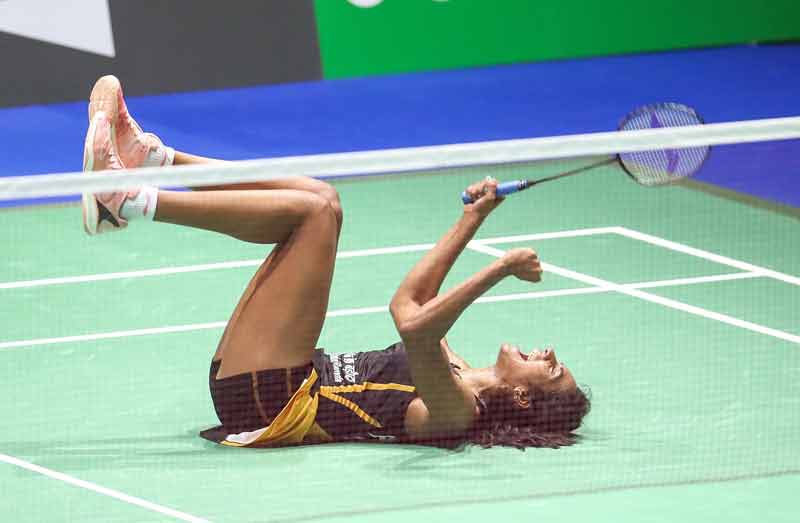 She had to work really hard for that moment. Seconds, minutes, hours, days, months, years and decades of practice had gone behind it. However, when it came, Pusrala Venkata Sindhu's arguably career-defining moment up until now, barring her silver medal run in the Olympics, lasted only 38 minutes. 38 minutes- the tike Sindhu took to win the final of the Badminton World Federation World Championships in Basel against Nozomi Okuhara.
What made her final victory even more sweet was the fact that against the same opponent some 2 years ago, Sindhu had been on the losing side in the final of the same tournament which had lasted as long as 110 minutes.
With her finally being crowned World Champions, her critics are silenced for some time to come now. The same critics who had slammed her from time to time for not being able to cross the final barrier. The tag of 'chokers' had somehow remained with her- seven years after she made her maiden International appearance and after she finished runners up in the last two editions of the World Championships and even the Olympic Games of 2016.
Sindhu won the medal and stated that it was dedicated to all of those who had doubted her ability to cross the final hurdle. If ever there is a personification of the statement 'answer your critics by your performances' Sindhu will aptly justify it.
For those who have been involved in the sport, it was only a matter of time before Sindhu would have clinched the title as she had been one of the most consistent players in the badminton circuit especially in the last few years. Even in the finals which she had lost in this period, some of them have been by very minute margins.
Thus it was only about peaking at the right time in a crunch situation or a game based on the understanding of the opponent's strength and weakness. Another thing which was evident from her dominating performance in the final was that she used her height to her advantage and played shots at an angle which made it extremely difficult for her opponent to score of. And so Sindhu won and with her won a billion dreams back in India.
Sindhu, notably, credited her foreign coach Kim Ji Hyun for her success and for inculcating some smart skills in her game-like net skills and deception.
Sindhu's win has not only shows the world her success alone but the country how India are quietly, steadily becoming a World power in badminton. He Championship medal win will inspire many youngsters to take up the sport but in India, it is not always about the numbers but how we deal with them at a professional level, how they are trained, nurtured and looked after that determines the level of success and the quality of performance.