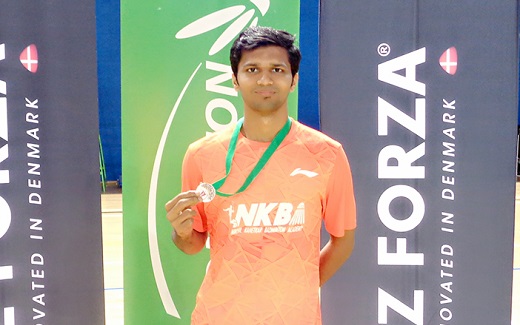 Pune: Pune-based Sukant Kadam has risen to the No. 2 position on the BWF Para-Badminton World Rankings.
The all-time best achieved by the Sangli-born Nikhil Kanetkar Badminton Academy (NKBA) trainee is a huge leap for both the Academy and Sukant's towards the Tokyo 2020 Paralympic Games. Badminton will be an official sport for the first time at the 2020 Games.
Sukant rose one position on the singles ranks in the 'SL4' class as per released by the world body on 12th June 2017. Earlier, Sukant was ranked No. 3.
His rise has primarily been due to consistent exposure and performance on the Para- Badminton circult. In recent time, Sukant did well to win back-to-back bronze medals in Thailand and Ireland respectively.

The effort won him 30 and 75 points respectively to swell his points.

So far, Sukant's has played five tournaments; Spain, Uganda, Turkey, Thailand and Ireland and has won a medal in each of the five in singles.

The phenomenal rise by Sukant makes him the second-best ranked para-badminton player in any class from India on the BWF rankings. The others are; Parul Dalsukhbhai Parmar who is the world No.1 in the 'SL 3' (Women) and Manoj Sarkar the world No 2 in the in the 'SL3' (Men) class.

Sukant says; "The aim is to play in the 2020 Games. It's a long way to go and lot of hardwork is needed. I have been blessed so far and owe it all to the confidence that Nikhil Sir has given me. The feeling is still to settle in."

NKBA Director and Head Coach Nikhil Kanetkar said, "To be ranked No.2 is a huge feat. It makes our Academy proud that we are doing the right things. Sukant is a focused player and going forward we will be looking into more exposure for Sukant in our mission."


TOP-5
1-Lucas Mazur (France) 362.5 points
2-Sukant Kadam (India) 165.0 pts
3-Suhas Lalinakhre (India) 162.5 pts
4-Bakri Omar (Malaysia) 160.0 pts
5-Tarun Dhillon (India) 150.0 pts
---