Paul Peterson of the United States will be chasing for more glory when he makes his debut appearance at the ISPS HANDA World Super 6 Perth which starts on Thursday.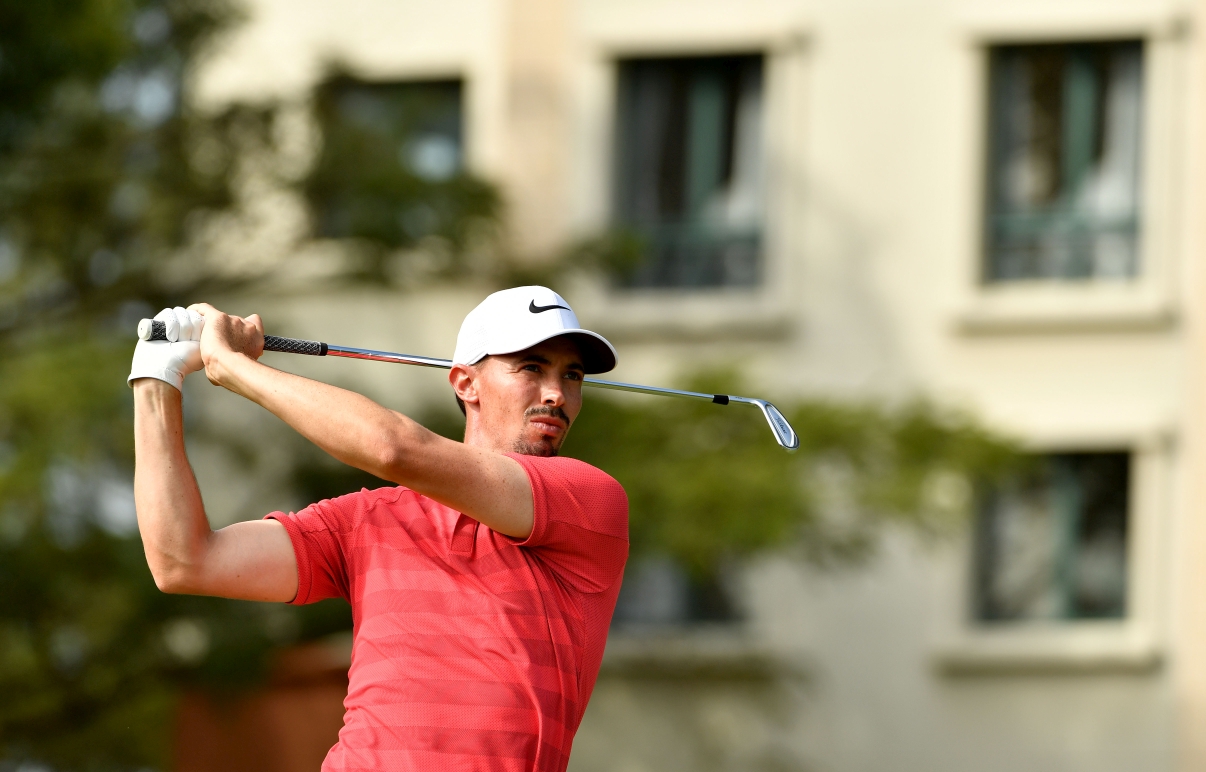 The 29-year-old American enjoyed a remarkable start to the season, breaking into the winner's circle for the first time on the Asian Tour after emerging victorious in Myanmar a fortnight ago.
Placed second on the Habitat for Humanity Standings, Peterson hopes to close in on leader Shubhankar Sharma with a good performance at the Lake Karrinyup Country Club.
Brett Rumford of Australia secured a dominant win last year, topping the leaderboard after the 54-hole stroke play before beating all his opponents in the matchplay round. He is looking forward to defending his title and retain his trophy on home soil this week. .
Moving away from the traditional four-day stroke play format, the ISPS HANDA World Super 6 Perth will combine 54 holes of traditional stroke play across the first three days with an exciting knockout match play format for the fourth and final round.
Shiv Kapur of India likens the new format in Perth to cricket's T20. He reckons that golf can only benefit from the change. The Indian golfer hopes to put together a more solid weekend performance here compared to the tournaments in Singapore, Myanmar and Malaysia.
Lee Westwood of England, along with Andrew 'Beef' Johnston and Masters champion Danny Willet, are amongst the marquee names for the ISPS HANDA World Super 6 Perth, which is featuring a world-first innovative format for the second consecutive year.
Westwood, who enjoyed a tied-11th place finish in Malaysia last week, will be looking to extend his good form when he steps up to the tee for the A$1.75 million (approximately US$1.25 million) event.
The ISPS HANDA World Super 6 Perth event, tri-sanctioned by the ISPS HANDA PGA Tour of Australasia, European Tour and Asian Tour, is proudly supported by the Western Australian Government through Tourism WA.
All the players enjoy coming out here. It's Mackenzie-designed and they are one of the best designers in the world. I understand that there are some changes to the greens and bunkers over at the front nine, so I'm excited to get out there to check out the changes. The wind is strong, so it's all down to course management. I'm practicing my punch shots, getting my wedges down in the lower window and taking some spin off the ball.
The new format is great for golf. The players wish that there are more matchplay events, actually. For me, I like going head-to-head against somebody. Although, the worst thing that could happen is when you lead after 54 holes and then lose your first match. Otherwise, it's a cool hybrid format. After three days of stroke play, you have to make that switch in the final round, which is fun. It should be an exciting week.
I think I started the year well. In Singapore, I missed the cut by a shot. I hit some good shots in Singapore, which showed up in Myanmar. I had a string of top-10 finishes last year and after my win in Myanmar, I'm really feeling good about the direction of my game. I've got my equipment dialed to where I want to be and I'm playing solid golf right now.
I'm ready to go (after my first victory) and I'm playing to win whenever I'm teeing up now. I'm excited for the events in the coming year. Winning the Habitat for Humanity Standings is definitely on the goal sheet.
Brett Rumford (Aus)
I feel good. I just played a couple of nine holes the last couple of days. The golf course is looking great. The wind's up, which is good as makes for an interesting test of golf, I think. I just had the last week off, so I'm good to go.
There's been some changes to the front nine, but all the matchplay is on the back so essentially, we've got the same golf course as last year in the same conditions. The format is quite physically demanding as well as mentally, especially when you're trying to play for a championship. So, it's quite a unique tournament in that respect. But last year was definitely a challenge. It was great to overcome it and take my first win in my home state, so it would be great to replicate it.
It's a great field this week. There are a lot of great players. Obviously, "Beef" (Andrew Johnston) is coming down to play, which is great news as he's one hell of a player. Obviously Lee Westwood and Danny Willet are household names so they're always a threat.
But every player in this event, once the matchplay begins, is a threat. If you get off to a slow start or someone gets off to a fast start, which every single player in this field is capable of doing, then you're on the back foot, so everyone's a threat this week with the format.
Shiv Kapur (Ind)
I love this golf course. Two years ago, I was leading here after the first day. It tests every aspect of your game. For one, you have to be able to shape your shots both ways off the tees. It's one of my favourite golf courses on Tour, which is why I chose to come down.
As for the format, you have something to play for to get to Saturday, and on Saturday, you have to play to get to the top 24. Once you make it to Sunday, it's a bit of a lottery, but nevertheless, you have to be on top of your game from the first hole.
The format is what golf needs. This is golf's version of cricket's T20. The format debut really well last year and I'm glad to be part of it.
To be honest, about my game, I was shedding my game rust over the last few weeks. I put myself into contention in Singapore, then faded over the weekend. Last week as well, I didn't have a very good Sunday. The good thing is that I'm putting myself in contention even though I'm not playing very well. You can't play well every single week, I guess. Hopefully, I can find that little something that I'm missing this week and put myself back in the hunt.
My short game has been pretty sharp. My long game, which is typically my strength, has let me down the last couple of weeks. I hope to rediscover my driver and my number one goal is to make it to Sunday.
Lee Westwood (Eng)
Well, it's been a while since I've been down to Australia. I think it was a couple years ago I played the Australian Open, and I've always enjoyed coming down here. Australia is just a great place to come and play, especially this time of year when the weather's miserable at home. It's a nice run of four tournaments for me to start the year, with Abu Dhabi, Dubai, Malaysia and then here.
Obviously, I heard a lot about the format as well. I do well at stroke play and matchplay, so it's nice to see somebody use their initiative and combine the two. I watched a little bit on television last year and it looks like an exciting format. Lake Karrinyup's a great golf course. I like the old traditional‑style golf courses - tree‑lined and great bunkering and lovely greens.
I think it's a format where you sort of got to adopt a more aggressive approach. It's no good edging your way in, I think you've got to come out as fast as you can and obviously make the cut on Friday night, but then getting in that top 24, so you might as well be aggressive and go for everything. I like the quickness of the six‑hole match play, that's once again fast and furious, and you want to get off to a fast start in that, too, so I'll try and make that my approach.
I think matchplay is a more mental game than stroke play, so mentally you have to be sharp and on your game for the matchplay stages. But like I said, it's just so fast and furious, six holes, that you probably won't have that much time to think. So, it's just a case of coming out and hitting good shots early on and making putts and getting up and getting the momentum, I think, more than anything.