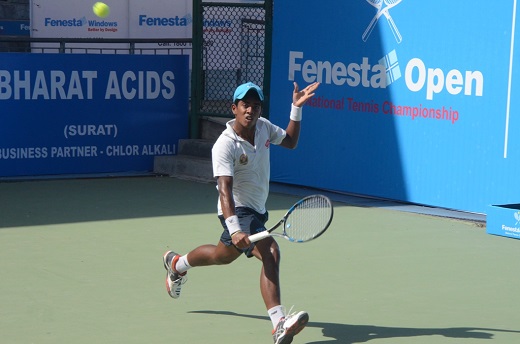 New Delhi: Rishab Sharda spilled his guts on the court for a long time before his opponent top seed Siddhanth Banthia pulled off a three-set win in the boys' under-16 quarter finals in the Fenesta Open tennis championship.
Siddhanth, who had a trouble-free week before this, was surprised by Rishab's ability to play well under pressure. With most of the match contested from the back court, Siddhanth used his killer instinct in time to post a 5-7, 6-1, 6-3 win on Thursday.
In another quarter-final match in the same section, Abhimanyu Vannemreddy, the second seed, made a lot of unforced errors but recovered on time to work his way past Dev V Javia 6-1, 4-6, 6-1.
Fourth seed Megh Kumar Patel was the most impressive player on court as he humbled Arjun Honappa 6-4, 6-1 and Dhashines Suresh beat NaithaolinGolmei 6-2, 6-3.
In the under-14 section, top seed AaryanZaveri needed to play sharp tennis to beat NishantDabas 6-2, 7-6 (8/6); while Dev V Javia won in straight sets. Third seed VM Sandeep had a few anxious moments before taming Nitin Jaipal Singh 6-4, 1-6, 6-3. In the last quarter-final, Ajay Malik had a long day out before dismissing Denim Yadav 6-4, 5-7, 6-4.
Among the girls' under-16, Salsa Aher had a good day in the sun as she toppled third seed Aesha Patel 6-2, 6-4. Salsa used her mind well and played smart tennis to force a minor upset.
Fourth seed Tanisha Kashyap was also tested to the hilt as she beat BakthiParwani 6-2, 2-6, 6-2 in a humdinger. Prinkle Singh, the fifth seed, shocked seed two Shaikh Humera 6-2, 6-1.
Prinkle would not have expected it so easy and she was able to close out the match in super fast time as her opponent Shaikh Humera had an off day and made mistakes.
Boys Under 16:
Siddhanth Banthia (Seed 1)btRishab Sharda 5-7, 6-1,6-3; Abhimanyu Vannemreddy (Seed 2)btDev V Javia 6-1, 4-6,6-1; Megh Kumar Patel (Seed 4) btArjun Honnappa 6-4, 6-1; Dhakshines SureshbtNaithaolinGolmei 6-3, 6-3;
Girls Under 16:
VaidehiChaudhari (Seed 1) btSharannyaGaware3-6, 6-1, 6-1; Tanisha Kashyap (Seed 4) btBakthiParwani 6-2, 2-6, 6-2; Prinkle Singh (Seed 5)btShaikh Humera (Seed 2) 6-2, 6-1; Salsa Aher (Seed 6) btAesha Patel (Seed 3) 6-4, 6-1;
Boys Under 14:
AaryanZaveri (Seed 1) btNishantDabas 6-2, 7-6(6); Dev V Javia( Seed 2) btDiveshGahlot (Seed6) 6-6, 6-4; Sandeep V M (Seed 3) btNitin Jaipal Singh 6-4, 1-6, 6-3; Ajay Malik bt Denim Yadav 6-4, 5-7, 6-4;
Girls Under 14
Sanya Singh (Seed 1) bt MalikaaMarathe 4-6, 6-3, 7-5; Sharannya Gaware (Seed 3) bt Richa Chougule (Seed 5) 6-2, 6-4; Sarah Dev (Seed 4)btVineethaMummadi6-2, 6-2, Sandeepthi Singh Rao bt Priyanshi Bhandari 4-6,7-5, 6-4;