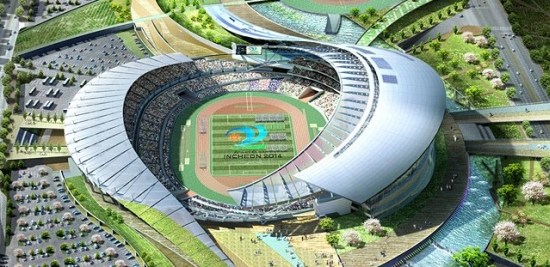 Mentioning sustainability and sports stadiums in the same breath may seem like an odd mix. But in the era of climate change, global warming and sudden thunderstorms, it is not really so. Particularly when the sport in question is football, which has a massive worldwide following and where FIFA fever can reach crescendo levels, when the 2018 FIFA World Cup dominates our news channels.
Given the millions that follow football and other sports globally, across different platforms and live at stadiums there is always a carbon trail that the sports and its allied activities in stadiums, leave behind. Given the focus on reducing carbon foot print it has becomes critical for us to evaluate sustainability for sporting arena too. Before one gets down to comprehending how to boost the sustainability quotient of stadiums, it's important to know more about sports and stadiums.
Besides entertaining the masses, sports serve a macro purpose of bridging cultural and national divides. Sports has always been an integral part of people's lives in India as well as globally. The history of sports dates back to the time when civilisations were emerging. The UN considers sports as an ideal tool for development and peace since it is participative in nature and brings communities together.
The advent of stadiums revolutionised the way people perceived sports. Right from ancient Greece and Rome to the Indus Valley, several civilizations built monumental structures to foster civic and religious engagements. Termed 'stadiums', such structures unleashed a new era, leading to the development of various forms of sports and opening avenues for its future commercialisation. Today, the sports industry is one of the most vibrant and among the fastest-growing industries worldwide.
Nonetheless, the sports industry is confronting challenges in enhancing the quality of broadcasting, improving the experience of fans and luring them into the stadiums while maintaining sustainability. To address such challenges, sports administrators and stadium operators are trying to provide enhanced quality of services to fans, players and staff through advanced technologies. Consequently, stadiums are increasingly being visualised as commercial and technological platforms.
Smart Stadiums
A smart stadium deploys sophisticated technologies and robust infrastructure in enhancing its operations and attracting fans into stadiums. Smart stadiums offer several benefits. Beginning from the availability of ample parking space, the smart stadium could integrate multiple technologies. These include ticket and crowd management, seat upgradation, Wi-Fi connectivity, merchandise sales, incident and emergency response management, and smart lighting, among others.
Driving innovation, using the Internet of Things (IoT) in boosting visitors' experience and supporting the stadium's operations will provide fans with an enhanced connected experience in the days ahead.
As per industry reports, the global smart stadiums market size is expected to rise from $4.6 billion in 2018 to $12.50 billion by 2023 – a CAGR of 22%. This growth is expected to be fuelled by the increasing number of networks as well as energy management systems deployed in stadiums globally.
While stadiums promote emerging technologies and their integration to elevate fans' experience, it is equally important that smart stadiums also become sustainable. One of the key solutions is in increasing energy efficiency and curbing carbon footprints. It is critical to make a stadium's electrical infrastructure sustainable, wherein temperature and lighting conditions are the two most prominent elements.
Efficient energy and building management solutions can play a pivotal role in delivering operational efficiencies, ensuring sustainable stadiums for the future. These technologies and solutions ensuring efficient distribution of power supply throughout the stadiums would also track and capture real-time data, further augmenting day-to-day energy and operational efficiencies.
Boosting Sustainability
Stadiums can become sustainable in several additional ways. They can utilise their huge rooftop surface areas to install solar panels. Rainwater harvesting will ensure that water collected is re-used for the grass field, thereby substantially reducing consumption of freshwater. Stadiums can also equip themselves exclusively with LED lighting, resulting in significant energy savings.
Among notable examples, the Amsterdam ArenA – home of the football club Ajax – is powered by more than 4,200 solar panels and one wind turbine. The main building comprises an energy-generating escalator and the stadium has also installed an energy storage system powered by second-life batteries from used electric vehicles.
The National Stadium in Singapore, which held the 2009 World Games, now caters to local football matches. With almost 9,000 solar panels powering the entire stadium, it has enough surplus energy. Apart from generating additional revenues, it provides electricity to power 80% of its surrounding areas. Another sustainable stadium is Australia's AAMI Park in Melbourne, hosting footfall matches almost daily. AAMI Park has used under 50% of the steel for its roof as against typical sports stadiums. Moreover, its rainwater harvesting system saves almost half a million gallons of water annually.
Then there's the Melbourne Cricket Ground (MCG) – an iconic 100,000-seat stadium and the home of Australian sports. The new Cloud-based utility monitoring and visualisation system implemented by Schneider Electric and EcoXpert AZZO enables the MCG to view and analyse real-time utility consumption, helping them reduce energy costs and carbon footprints while becoming a more sustainable stadium. All the data is monitored, viewed and then turned into actionable insights, relevant to various stakeholder groups within the MCG, enabling them to be accountable for energy consumption and allowing the facility to operate more efficiently.
Recently, the UK football team, Tottenham Hotspur, appointed Schneider Electric as its Official Stadium Management Supplier, attesting to the fact that sustainability is gaining traction among stadiums across the globe.
Considering the emphasis on sports in India and the ongoing efforts to popularise different categories, it is time India also builds modern-day stadiums that are sustainable and self-sufficient. To begin with, some cricket stadiums hosting numerous day-and-night matches throughout the year can be made sustainable by installing rooftop solar panels and water-harvesting systems. When matches are not underway, the power generated from the solar panels can be fed into the grid, thereby helping stadiums generate extra revenue. The lighting too can be transformed from traditional to LED-based. A combination of these steps will go a long way in limiting their carbon footprints.
More than a few football and other stadiums are already doing this across the world. In the process, they are earning extra revenues while running up lower power bills due to less electricity usage. Clearly, this is the best way forward as stadiums up their sustainability quotient to make the Earth a much better place to live in.
As we are all charged up with energy which could power an entire grid- here's to an electrifying football season!