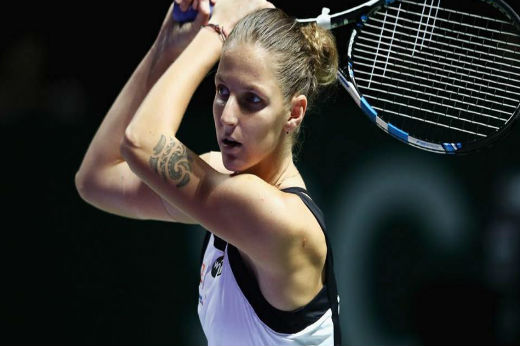 Doha: Czech tennis star Karolina Pliskova has claimed her first Qatar Total Open title with a straight sets victory over Denmark's Caroline Wozniacki here.
The second-seeded Pliskova won 6-3, 6-4 in Saturday evening's final, reports Efe news agency.
Pliskova had lost her three previous matches against the Dane, although they all were played in 2013 and 2014 before she became a top-10 player.
The Czech did not come close to the career-high 21 aces she served up in her 6-4, 4-6, 6-3 semi-final victory Friday over third-seeded Slovak Dominika Cibulkova, a player against whom she also had had an 0-3 record.
The 2016 US Open finalist only struck four aces on Saturday, although she lost her serve just once and faced only two break points on way to her second title of the season (Brisbane).
Wozniacki, by contrast, lost her serve on four occasions.
"I think I'm having a great start to the year, which is always important," the third-ranked Pliskova was quoted as saying on the WTA's Web site.
"To beat players like Cibulkova and Wozniacki is something amazing. I've never beat them before, but I was trying really hard this week so I'm really happy with my wins here."
Read more: Sania slams media for focusing on tax notice and not her play
Because of rain throughout the week, Pliskova was forced to play three matches over the final two days to win the title.
Wozniacki sent an upbeat tweet after the loss.
"Not the trophy I had wished for, but still proud of my performance this week, lots of positives to take with me moving forward!" the 18th-ranked Dane wrote.