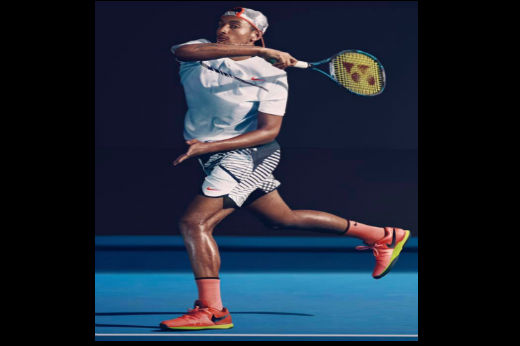 Melbourne: Australian tennis player Nick Kyrgios's health is in question after the 14th seed ended a practice session on Sunday, a blow to the host nation's chances of winning their home Grand Slam.
Clouds have surrounded Kyrgios all summer, struggling with a knee injury for which the pain is managed by cortisone patches, though new, possibly related issues have come to light, reports Xinhua news agency.
Also Read :Angelique Kerber to play without expectations at Australian Open
"I cannot move my back or my hamstring. (I'm) serving in the middle of the net," Kyrgios said to his practice opponent on Sunday.
The two were in a practice tie breaker, of which his opponent won, causing Kyrgios to toss his racket onto the ground.
Soon after, the group of four players -- which included Australian up and comer Jordan Thompson -- packed up and left.
Kyrgios told reporters on Saturday the "four or five" treatments he had on his knee were "massive improvements" and that it was "feeling really good", lifting his own Australian Open campaign expectations despite a relatively sedate lead up.
"I've never been a player to play many tournaments before a Grand Slam. I like to come in pretty fresh," Kyrgios said.
The injury concerns are a blow for Australia's chances of keeping the Australian Open trophy on home soil, with the 14th seed the host's highest ranked player.
He is followed by 27th seed Bernard Tomic as the next best ranked men's player while Samantha Stosur -- who hasn't won a match in five months -- is at 18 in the women's draw.
Australia haven't held the Norman Brookes Challenge Cup aloft since Mark Edmonson defeated fellow compatriot John Newcombe in 1976.
Australia's Chris O' Neill was the last female champion to lift the Daphne Akhurst Memorial Cup on home soil in 1978.
"Obviously I'd love (to hold the trophy)," Stosur, a former US Open champion, said on Sunday in response to being asked if it was the 15th time lucky for her to win the Australian Open.
"I guess we'll see what happens after the first round. Then if I' m here for the second one we'll talk about it then, then the third, the fourth," Stosur said.
Australia's best chance to regain the title was when Leyton Hewitt was downed in four sets by Russia's Marat Safin in 2005.