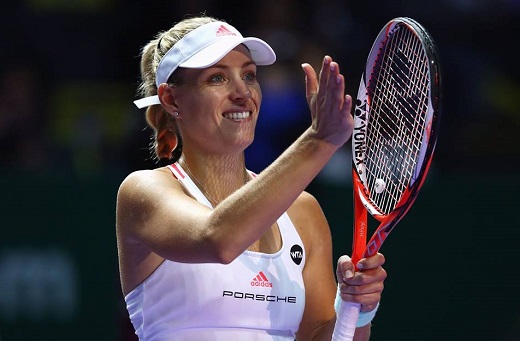 Melbourne:Germany's Angelique Kerber has found the ticket to success at the 2017 Australian Open after a mixed lead up, playing without expectations and forgetting the pressure of being the world's best female tennis player.
After snatching the world crown from superstar Serena Williams last year, the pressure on and off the court has been mounting on Kerber to meet expectations and perform the daunting task of being the best female star, reports Xinhua news agency.
Also Read :Serena focused on Australian Open rather than wedding
"It's just a number before my name... (but) I will try, of course, to stay as long as possible there," Kerber told reporters in Melbourne on Sunday ahead of the Australian Open.
"It's a new challenge. I think I'm ready for that challenge, let's see how I can deal with that.
"But at the end I'm still trying to do my things like I was doing this before."
That weight, however, was arguably responsible for her quarter-final exit at the Brisbane International to Ukrainan Elina Svitolina (4-6, 6-3, 3-6), and shock straight sets defeat (6-7 (5), 2-6) against Russian Daria Kasatkina at the Sydney International last week, committing 41 unforced errors in the process.
But the German ace believes she has the ticket to victory in Melbourne: remember the feeling she with her "second chance" at the 2016 Australian Open after the match point scare in her round one bout against Japan's Misaki Doi (6-7 (4),7-6 (6), 6-3.
"I think this point where I was match point down, that was I think, yeah, the important point for my career, you never know when I lost the match what's happen then," Kerber said.
"When I'm looking back, I was feeling that I (got) the second chance to staying in the tournament. I was playing since then, like, without expectation, without nothing, just enjoying everything."
Thus, not putting too much expectations, and pressure on herself like early last year will be the ticket, getting that "feeling again here from the first round and playing my best tennis", Kerber said.
"It's a new tournament, we are starting from zero here, I have to be ready from the first round again.
"I will try to not putting too much expectation and pressure on myself... I will try to do it like last year."
The Australian Open begins on Monday.