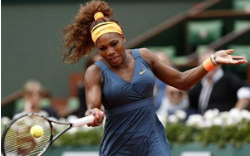 Melbourne: United States tennis star Serena Williams said on Saturday that she prefers to focus on the Australian Open rather than her own wedding.
The 35-year-old explained that she was paying more attention to the Australian tournament, scheduled to kick off on January 16, than to her upcoming wedding with Alexis Ohanian, co-founder of the social network Reddit, reports Efe.
"I've said it from the beginning; I just didn't want to think about (the wedding) until after Australia because Grand Slams mean a lot to me," the former world No.1 said.
If the US player wins the Australian Open, she would break the record of 22 Grand Slams, which she currently shares with German Steffi Graf.
Read more: Elise Mertens wins her first tennis title at Hobart
Serena, who noted that she was in Australia "just to play and win", will start competing in the tournament against 19-year-old Swiss Belinda Bencic, who defeated her in the 2015 Toronto semi-finals.