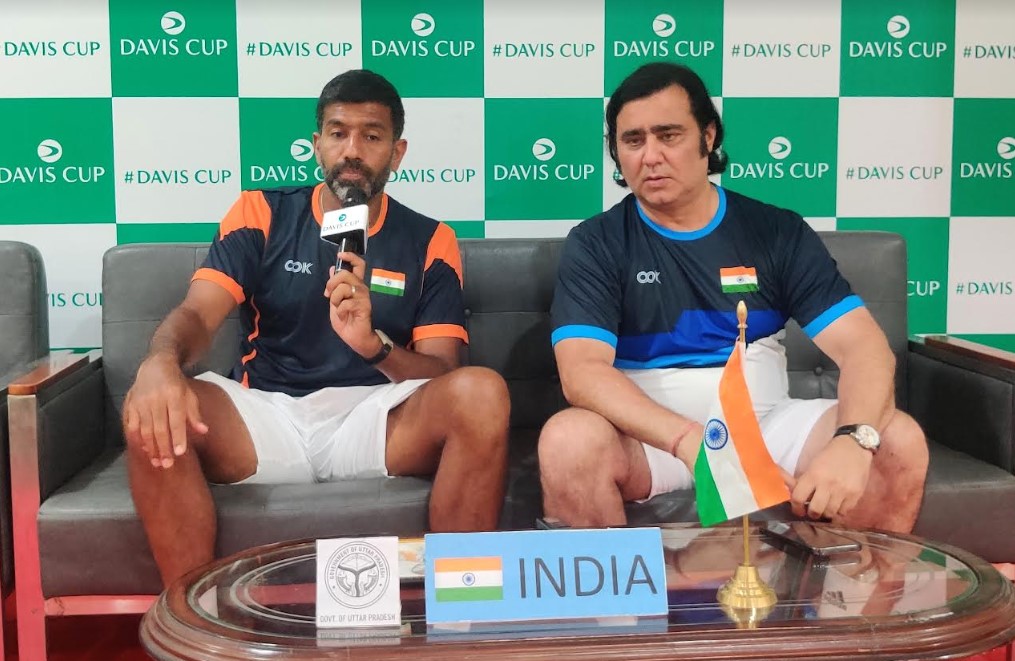 Lucknow: After securing a victory over Morocco in the World Group II tie, Rohan Bopanna made an exit from the Davis Cup. Bopanna and Yuki Bhambri thrashed the pair of Elliot Benchetrit-Younes Lalami Laaroussi 6-2, 6-1 in the doubles match played at the Vijayant Khand Mini Stadium in Gomti Nagar, Lucknow on Sunday.
Bopanna's powerful forehands found no answer from the opposite camp.
"Sad to be leaving the Davis Cup, but also simultaneously proud to have played for such a long time. I thank the entire nation for the support and all the teammates, the captain I have played under. It's been a great journey and learning experience," Bopanna said during the post-match press conference.
The 43-year-old, however, is happy that he will now get time to spend with his family. Speaking about the tie, he said, "It was extremely important for us to go to World Group I play-offs where India should be and work our way upwards."
India's non-playing captain Rohit Rajpal, who is also Executive Committee Member of the Indian Olympic Association, said Bopanna will be missed. "For any captain, when you have a player like Rohan Bopanna, a towering figure, there's always a fight about who wants to play with him. All of them want to play doubles with him," Rajpal commented.
"The whole team is under the shock of his decision not wanting to continue. But certainly, he's passed on great knowledge to Yuki (Bhambri) and Ram (Ramanathan Ramkumar). We will continue to take his guidance and benefit from it," he added.
Rajpal felt Indian doubles players have always left a legacy behind, but it's the singles that needs to be the focus.
"We are a tough team and we put a lot of heart into the Davis Cup. When we are playing, we are a tough team to beat. At the same time, if we must beat top teams then we certainly need to have very good singles performances from our players, because there are four points for singles. We need to develop more depth in terms of our singles in the team," the captain opined.
According to Bopanna, there are some talented players in the team to take it forward from here and he will always be around to help them. Bopanna believes exit from the Davis Cup is not the end of his career.
"Couple of days at home and I will be right back on the road. Tennis is a very busy schedule, coming from New York and then back to China so it's a lot of travel. I am going on a high. With a week of practice before we go to Hangzhou [for the Asian Games]," he said.
With this victory, India will now play World Group I play-off in 2024.