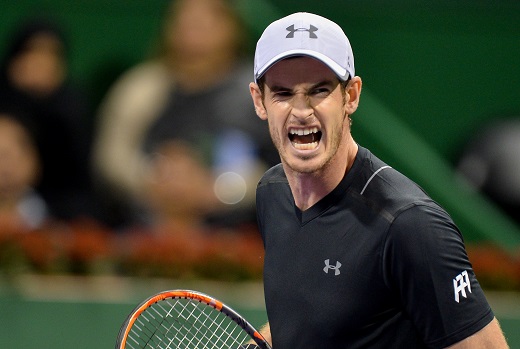 London: Scot Andy Murray stayed at the top of the Association of Tennis Professionals (ATP) men's singles rankings released on Monday, with 11,540 points.
The 29-year-old led the rankings for the first time on November 7 and has kept the lead since reports Efe news agency.
Serbian Novak Djokovic came second with 9,825 points, followed by Swiss Stan Wawrinka.
Belgian David Goffin has climbed one place in the rankings to join the top 10 tennis players in the world.
The current ATP rankings and point scores are:
1. Andy Murray (Scotland) 11,540 points
2. Novak Djokovic (Serbia) 9,825
3. Stan Wawrinka (Switzerland) 5,695
4. Milos Raonic (Canada) 4,930
5. Kei Nishikori (Japan) 4,730
Read more: Karolina Pliskova wins Qatar Total Open tennis title
6. Rafael Nadal (Spain) 4,115
7. Marin Cilic (Croatia) 3,410
8. Dominic Thiem (Austria) 3,375
9. Roger Federer (Switzerland) 3,260
10. David Goffin (Belgium) 3,245.