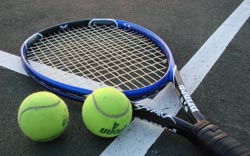 Kolkata: Akshat Agarwal of Bengal brushed aside top seed Mohammed Iftikhar Sheikh in the final qualifying round of the boys singles to enter the main draw of the ITF Juniors tennis tournament here at the red clay courts of the Dakshin Kalikata Sansad here on Sunday.
Making a dominant presence from the very beginning, Akshat took every opportunity to raise the pressure on the top seeded Sheikh.
The opening set was stretched to a tie-breaker, where Agarwal proved to be little lucky as he pocketed the breaker by a close 7-4.
The second set too went tight till 5-5, where Agarwal held serve to move a step closer, making the scoreboard show 6-5. Sheikh, here made two errors from the ground strokes and eventually lost by a nail-biting 5-7.
Read more: ITF Juniors: Delhi's Chawla upsets Satpathy
Top three seeds in the girls singles qualifying draw, Shivani Manjanna, Lasya Patnaik and Humera Begum Shaik entered the main draw respectively whereas fourth seed Sonashe Bhatnagar erred going down to fifth seed Kiran Kalkal by a close 6-7(6),5-7.