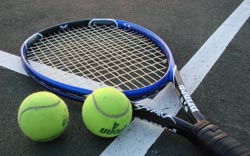 Chennai: Russias 20-year-old rising star Daniil Medvedev entered his maiden ATP World Tour finals by overcoming a dogged Dudi Sela in the 22nd Aircel Chennai Open singles semi-finals at the SDAT Stadium here on Saturday.
In front of nearly packed stands, World No. 99 Medvedev came back from one set down to save a match point in the second and clinch the tie 4-6, 7-6 (2), 6-2 in two hours and six minutes.
Israel's 31-year-old journeyman Sela looked like he had the match well within his grasp as he covered the court smartly and mixed his shots almost to perfection.
His deceptive double-handed flicks often caught Medvedev guessing, giving him the edge. When he saw an opportunity, he added extra power into his forehand drives too for maximum effect.
Sela got the upper hand in the seventh game when Medvedev missed an overhead volley. The next game proved to be the most absorbing with both players engaging in long end-to-end rallies. Sela faced two break points but managed to save both of them. He held on to his serve to go 5-3 up.
Medvedev changed tack at this stage, attacking the ball a lot more aggressively and looking for winners. He held serve for 4-5 but couldn't find a way to crack Sela to lose the set in 40 minutes.
Also read: Sania wins Brisbane International crown but loses No. 1 WTA rank
The quality of tennis peaked in the second set, with both players lifting their games. Medvedev broke in the fourth game to jump into the lead 3-1.
But Sela, against the run of play, bounced right back. They held serves till 4-4 before Sela got the much-needed breakthrough in the next game and looked set to wrap up the set and match too.
He was on match point too but Medvedev whipped out a forehand that barely caught the line. He took the next two points to save the game and set.
In the eventual tie-breaker, Medvedev rode on his powerful serve to jump to 4-2 and annexed the next three points to win 7-2.
Sela yielded his next game to go down 0-1. Medvedev took charge of the match and cruised away to 4-2. He got another break in the seventh game by which Sela had all but given up.