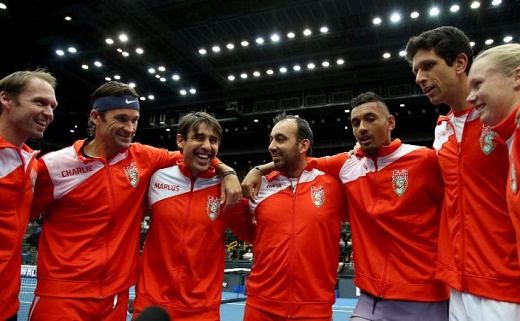 Hyderabad: Just like a Real Madrid versus FC Barcelona. Or a Manchester United versus Liverpool FC. The Coca-Cola International Premier Tennis League will have its dream final showdown. The two best teams of this 2016 edition facing each other with just one thing in mind: the title. Indian Aces versus OUE Singapore Slammers. Same final as 2015. The two strongest teams fighting for the crown.
In Japan, the Aces had a perfect Day 1 with a 30-17 victory over the Japan Warriors and a spectacular comeback on Day 2 thanks to team hero Kirsten Flipkens, who defeated Kiki Bertens after returning to stay in the set and force a Shoot-Out against the Slammers (25-26).
On Day 3, though, the Indian side was beaten by the UAE Royals in a superb display from the Emirati side (20-30).In Singapore, the midway station of the competition, the Indian's fate was written. They took the first place of the leaderboard and never gave it back to any other team. Tomorrow is time to show that being the champions in 2014, the first IPTL edition, and runners-up in 2015 is not a coincidence. They have been the more consistent team over the three years.And so far in India, they have been the perfect local team.
As the 2015 IPTL champions, the OUE Singapore Slammers have really picked up their game in the last two legs and that's the reason they will try to defend their title. In Japan, they couldn't find their rhythm but it didn't stop them to keep trying. The most difficult task is ahead of them, since they haven't been able to beat the 2014 champions (25-26 in Japan, 22-23 in Singapore and 19-24 here in Hyderabad).
The time has come. Tomorrow is the day. Indian Aces or OUE Singapore Slammers. One will be the IPTL 2016 champion.