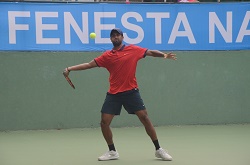 New Delhi: Rank Outsider Tejas Chaukulkar toppled second seed Mohit Mayur in the second round of the Men's Singles at the Fenesta Open National Tennis Championship. Tejas won in a three setter against Mohit Mayur 4-6,6-3,6-4.
Old warhorse Vishnu Vardhan showed he still has plenty of ammo left in him as he outfoxed Paramveer Bajwa 6-4, 6-3 in the second round of men's singles. On a relatively pleasant Wednesday, Vishnu showed he was comfortable in grinding winners from the baseline to win the match from the back of court.
There was a bit of a scare for third seed VM Ranjeet as the seasoned player needed time to defeat Byreddy Saran 7-6 (7/4), 1-6, 7-5 in a match which went down to the wire. There were a number of ups and downs in the long, grinding match where Ranjeet used his experience to pull off a creditable win in cooler conditions but in high humidity.
After showers on Tuesday and a drizzle on Wednesday, the players were more comfortable as dehydration was not something to worry about. In another long match, Kunal Anand, seed five, outslugged Faisal Qamar in a three-setter.
Haadin Bava continued to impress with a 6-3, 7-5 win against Abhinav Sanjiv.
The women's matches also saw upsetsin the first round played today morning as matches were pushed from Tuesday on account of rainfall Mihika Yadav ousted the top seed Dhruthi Venugopal in a tough three setter 6-7(3),6-1,7-6(3).
Delhi girl Shweta Rana upset second seed Rishika Sunkara in the first round with a thumping 6-0, 6-1 win. But in the second round Shweta was on the receiving end as Sharmada Balu registered a creditable win in a two hour fifteen minute match with a score 7-6(5),6-4.

Third seed Riya Bhatia underlining her superiority by playing a patient game against Samriti Puniyani for a 6-2,6-1 win in the second round.

Fourth seed Pranjala Yadlapalli was confidence personified as she played a solid first set and then faced some resistance before downing Aarushi Kakkar 6-1,6-4.

In the under-18 section, the boys' and girls' matches are turning out to be very competitive and results on predictable lines.

Matches Result at 5:15 pm:
Mens Singles: 2nd Round
Vishnu Vardhan (Seed 1) bt Paramveer S Bajwa 6-4,6-3: Tejas Chaukulkar bt Mohit Mayur Jayaprakash (Seed 2) 4-6, 6-3, 6-4: VM Ranjeet (Seed 3) bt Byreddy Saran 7-6 (4), 1-6,7-5: Kunal Anand (Seed 5) bt Faisal Qamar 7-6(2), 4-6, 6-2: Dalwinder Singh bt Anshu Bhuyan 6-3,6-3 : S Vishwakarma bt D Suresh 6-3,6-4: Haadin Bava bt Abhinav Sanjiv 6-3,7-5: Jayesh Punliya bt Irfan Hussain 6-2,6-1
Womens Singles:
1st Round:
Mihika Yadav bt Druthi Venugopal (Seed 1) 6-7(3),6-1,7-6(3) : Shweta Rana bt Rishika Sunkara (Seed 2) 6-0,6-1 : Riya Bhatia (Seed 3) bt Pareen Shivekar 4-6,6-0,6-0 : Vaidehi Chaudhari bt Sowjanya Bavisetti (Seed 7) 6-3,2-6,6-2:Himani Morbt Y Sai Deedeepya 6-3,7-5 :Nidhi Chulmulla bt SaumyaVig 6-1,6-0
2nd Round:
Riya Bhatia (Seed 3) bt Samriti Puniyani 6-2,6-1 : Pranjala Yadlapalli (Seed 4) bt Aarushi Kakkar 6-1,6-4
Eetee Maheta bt Neeru Rapria 6-0,6-1 : Nidhi Chilmula bt Harsha Challa 6-2,6-2; Mihika Yadav bt Pratibha Narayan 6-0,6-2: Jennifer Luikhambt C Sai Samitha 6-7(5),6-4,6-3: Sharmada Balubt Shweta Rana

Boys Under 18: 3rd Round
BR Nikshep (Seed 1) bt Rian Pandole 6-3,6-2 : Dhruv Sunish (Seed 2) bt Muthu Senthil Kumar 6-1,6-1 : Nitin K Sinha bt Ishaque Eqbal 6-0,6-0: S Abhinav Sanjiv bt Mritunjay Badola 6-2,6-0: Dakshineshwar Suresh bt Alex Solanki 6-4,6-4: Sanket Tomar bt Yugal Bansal 6-4,3-6,6-1 : Paramveer Bajwa bt Rishab Sharda 6-4,6-2: Param Punj bt J Theyjo Oges 6-3,6-4
Girls Under 18: 3rd Round
Akanksha Bhan (Seed 3) bt Shivani Sravya 6-4,6-0: Jennifer Luikhambt HS Challa (Seed 4) 6-4,6-4: Yamalapalli Sahaja bt Aarja Chakraborty 6-1,6-3: YS Deedeepya bt G.S Vasavi 6-3,6-3 : Urmi Pandya bt R.S Bhamidipaty 6-3,6-1: Humera Shaik btYubrani Banerjee 6-2,6-2: Lalita Devakonda bt Lasya Patnaik 2-6,6-3,6-3: Tanisha Kashyap bt Vaidehi Chaudhary 7-5,6-3