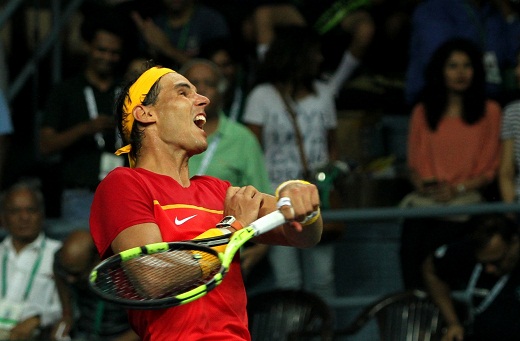 New Delhi: Stage is all set for the Davis Cup World Play Off match between India vs Spain as World No 4 Rafael Nadal will take on young Ramkumar Ramanthan in the opening singles match of the Davis Cup tie at RK Khanna Stadium in New Delhi on Friday evening.

In the draw announced by International Tennis Federation on Thursday, World No. 13 David Ferrer will play against India's Saketh Myneni. Meanwhile, Leander Paes will pair with Saketh to play against Feliciano Lopez and Marc Lopez in doubles on Saturday. Saketh will play against 14 times Grand slam champion Nadal and Ramkumar will lock horns with Ferrer in the reverse singles.
The Spanish captain, Conchita Martinez, was confident of her team owing to the wealth of experience at her command. Meanwhile, Nadal, giving due respect to the Indian team, said it would be a tough match for everyone in the hot and humid conditions prevalent in New Delhi. "It is humid and very warm. Home conditions do make a difference. But we do have the names, ranking and we are the favourites. However, we have to play our best," said Nadal, adding that though they were used to playing in different conditions, here the humidity was on the higher side.

"So we need to be fit and with best of five sets in these conditions, it will be hard. We need to adapt to the conditions and be prepared for the start. Injuries are always tough. It's difficult to comeback but I think I did well. I had a good Olympics and then I competed well at the US Open. Here we are excited about the tie. We are motivated to reach the World Group and that remains the only goal," said the champion.

Expressing his excitement of playing someone like Nadal and Ferrer, Ramanathan said, "I'm really excited to play one of the best players of all time. We have to keep the first few games close and play some aggressive tennis. I need to play with a lot of forehand and attack his forehand, play as deep as possible and of course serve well. I am ready to play my heart out."

Saketh Myneni said, "We are the underdogs and we have to find a way to do well, put everything on line and bled blue on the court. If we can finish 1-1 after day 1, we will have a good chance. So everything depends on the first day."

Meanwhile, experienced Leander Paes said that he was happy to play with young boys to rewrite history for India.