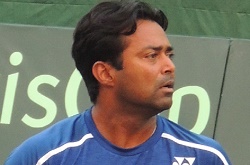 New Delhi: India's Davis Cup captain Anand Amritraj on Tuesday informed that the potential combination for doubles will be decided after the first day's play, as it would make it clear how the Indians were performing against the Spaniards.

"How long Sumit Nagpal and Saket Myneni go on a court like this will decide who will play along with Leander Paes in the doubles. Without Rohan Bopanna, the burden is on Saketh. We have to make do with what we have," said Amritraj, adding that the 5 pm start for the tie was a good option.
India will be playing a formidable Spain team, including former World No 1 and 14-time Grand Slam winner Rafael Nadal and David Ferrer, in the World Group Play Off at the RK Khanna Tennis Stadium, DLTA Complex, New Delhi from September 16- 18.

Amritraj said India would be playing against the best team in the last 25 years in Davis cup. "Spain is the best team assembled against India in the last 25 years that I can think of. However, we will play our best game and will give a tough fight to them," he said.

Meanwhile, seven-time Olympian and India's Davis Cup hero Leander Peas, who is the only senior player in the team after Rohan Boppanna dropped out due to injury, said he had full faith on the youngsters and that he was ready to play with any combination in the doubles match on Saturday. "Saketh is senior among rest of the players. He is a natural ad court player and has big serve and big wing span at the net. Sumit, like me is a junior Wimbledon champion and has a lot of talent. I will like to nurture them and teach them to put their best foot forward," said Paes.

Peas also advised young player not only to learn from their seniors but from their opponents as well. He said, "I still keep learning even after 30 years of experience as a professional player."

Ramkumar Ramanathan, another member of the Indian squad, said he was going to play his game freely as he had nothing to lose against playing such a champion side. The captain also put faith on him as he said that Ramkumar was playing well and hoped would continue to do well in future.

The Indian team also expressed their happiness that Spain had sent their best team at the qualifying stage. They said this would encourage youngsters to watch how the best teams in the world play and every Indian sports lovers would be glad to watch the game being played on such a grand scale.

Indian team also said that the timings of the matches were favourable and would attract a lot of attention as office goers would return from their offices to spend wonderful evening. Previously the captain of the Indian team had expressed his unhappiness over the match timings.

Both the teams, however, agreed that humidity would be a big factor and to keep the players fit would be most vital part of the game.