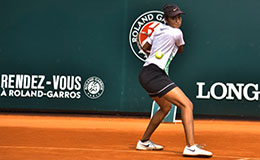 New Delhi: Humera Shaik defeated defending champion Sathwika Sama to enter the semi-finals of the 'Rendez-Vous à Roland-Garros in partnership with Longines' here at the Delhi Lawn Tennis Association on Wednesday. In another match, Rishika Ravindran from Tamil Nadu got past fourth seeded Lalita Devarakonda to set up the semi-final clash with Humera.
Humera playing on the newly laid clay courts at the DLTA used her forehand to good effect and troubled Sathwika throughout the match. She led the first set by 5-4 and broke Sathwika's serve to take the first set by 6-4. Sathwika came back strong and breezed past Humera 6-1. In the final set, Sathwika had a match point but Humera held her nerves to win the match 6-4, 1-6, 7-5.
Tamil Nadu's Rishika dominated Lalita for most of the match and won the first set 6-3. She led the second set 3-0 but Lalita shots back to make it 3 all. However, it wasn't enough as the Rishika took the game 6-4. The final scoreline read 6-3, 6-4 in favour of Rishika. Meanwhile, second seeded Mahak Jain from Bhopal breezed past P Abhinikka of Tamil Nadu 6-4,6-2 to book a place for herself in the semi-finals.
In the boys category, Paramveer Bajwa could not replicate his first round performance and crashed out of the tournament after a defeat to Adil Kal yanpur from Telangana. He had defeated the top seed Parikshit in the first round. Paramjeet started confidently and blanked Adil 6-0, in the first set. However, Adil came back strongly and won the next set 6-4. In the final set, Adil tightened the screws and won it 7-5. The final scoreline read 0-6, 6-4,7-5.
Another important announcement was made today when AITA, extending its support to the MOU signed with FFT offered more incentive to junior players competing in the ongoing 'Rendez-Vous à Roland-Garros in partnership with Longines', declared that the winners of the tournament will be given wild cards for the upcoming Delhi Open.
"This step is for furthering the cause of the Memorandum of Understanding (MOU) we have signed with FFT. Our association with them started with the aim of helping our junior players develop an all round game and get exposure.

Taking forward the initiative, AITA has decided to award wild cards to winners of the Rendez-Vous A Roland Garros event," AITA President Anil Khanna said.

"We are committed to help our junior players in whichever way we can. Playing in Delhi Open will be a great opportunity for them to assess themselves at that level of international tennis," Khanna said.