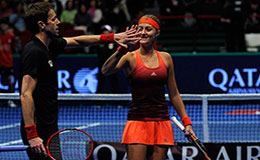 Kobe: Local fans came out in huge numbers on day 2 of the Coca-Cola IPTL to enjoy some brilliant tennis and never-seen-before team camaraderie as day 2 wound up in the charming host city of Kobe, IPTL's home for the 1st leg this year. Home heroes, Japan Warriors failed to convert the huge crowd support to their advantage that saw the Royals winning the match with a huge margin 30-15!
Match Summary:
- In the mixed doubles, Sharapova/Herbert failed to score a point against the experienced doubles pairing of Mladenovic/Nestor, who took the set away 6-0. Leander was substituted in by the team in place of Herbert, but it was too late by then
- The women's singles saw Sharapova come back for the Warriors, facing off against Ivanovic. The crowd witnessed some sizzling women's magic with both women fighting it off stroke for stroke. Ultimately, Ivanovic took the set 6-4 giving the Royals a huge lead on the scoreboard
- The legends singles took audiences back a decade or more, with big boys Marat Safin and Goran Ivanisevic pitted against each other. Goran's quick-footed and quick-witted tennis won it for the Slammers 6-4, the home heroes now 3 sets down against the visitors
- The men's doubles with Paes/Herbert brought some much-needed cheer to home fans, with brilliant stroke play and clever shot making by Paes on the nets, but Nestor/Berdych won the set 6-4
- In the closing match of the day, Berdychand Kohlschreiber were pitted in the men's singles rubber. Bird Man Berdychwon the set 6-3, closing out the match with a humongous margin for his team-mates.
What the Players said:
Maria Sharapova: "I think the IPTL is wonderful. Last time it was my first time in Manila, this time, it's my first time in Kobe … and I really like that. Playing on the tour, we keep going to the same places all the time, and going to new places is what motivates me, makes me feel good, I like the energy. Next year, it could be another new city."
Marat Safin: "The IPTL is a great concept. As you can see, the player are having fun, the fans are enjoying it. Who knows, in the coming years, this could grow bigger and bigger and then, countries would have their own teams to play in the IPTL, more like the World Championships!" Speaking about the format, Safin added "It is my first time, so it's a bit complicated for me. It's a different feeling to get used to, and then the shot clock and the power point got to my head. But I will be more prepared for the next game." Speaking about home hero, Kei Nishikori, he said, "He's very talented, has great strokes. He's young, and so there's still more improvement for him to do. He has a good coach, Michael Chang, and I'm sure he knows what he's doing, and with the top guys soon retiring, I'm sure he will be no. 1 soon (laughingly)!"
Match Scores:
Day 2 | 3rd Dec'15

Match 4 | 7:30pm

Home Team

SCORE (GAMES)

Away Team

Legendari Japan Warriors

Coach:

15

30

Obi UAE Royals

Coach: JL De Jager

MIXED DOUBLES

Sharapova / Herbert

0

6

Mladenovic / Nestor

WOMEN'S SINGLES

Maria Sharapova

4

6

Ana Ivanovic

MEN'S LEGENDS SINGLES

Marat Safin

4

6

Goran Ivanisevic

MEN'S DOUBLES

Paes / Herbert

4

6

Nestor / Berdych

MEN'S SINGLES

Philipp Kohlschreiber

3

6

Tomas Berdych